Student Profile: Sameer Yeolekar, PMP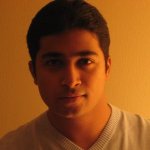 My name is Sameer Yeolekar. I am primarily involved in the Software Engineering and Process Improvement domains.  In December 2013, I helped my organization achieve a Maturity Level 3 rating in the CMMI Development v1.3 Constellation. I live and work in northern Virginia with my wife and son. I enjoy playing cricket and dancing.
My experience as a Technical Lead and Project Management of various initiatives over time was one of the reasons to consider getting a PMP certification. My experience with process improvement, while developing our project management and software/systems development process framework was also a major trigger.