Student Profile: Sachin Vehale,PMP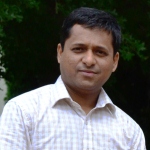 Hi, I'm from India.I got my bachelor's degree in Electronics & Telecommunications from Pune University in 2005.I am an IT professional and working in IT industry for about 9 years now; have worked with and led project teams in India, USA & Australia.
Even before entering professional life, as a student I have been always fascinated towards managing things better and efficiently.During my career, my professional duties threw the practical challenges at me and I started noticing the gaps in the practical world of project management.I considered PMP certification mostly because of my interest towards managing & overcoming practical project management hurdles.
I wanted to learn the framework, methodologies which have yielded great results,which have assisted in delivering great projects &  are respected through out the world.Other reason being- career advancements through getting equipped with the knowledge.
Most difficult part was to select the right preparation material for studies ! I did spend around 2 months just doing the ground work and learning about the certification, browsing the study material,courses available online & the books.Finding time for studies was not the most difficult part even after professional duties and family responsibilities, mainly because my interest in learning kept me ticking and because of my supportive family.
I came across The PM PrepCast on internet while I was doing my ground work for the certification.
PM PrepCast is really comprehensive. Few real world project management situations, problems or case-studies can be added along side key concepts
My #1 recommendation for those studying for the exam - it would be The PM Prepcast, no doubts. It not only helps to prepare for exam, but from learning perspective, it's really the best. I'm really surprised that you have managed to pack this much into PM Prepcast and at that price.I will be following OSP international products for my future professional learning & development. I have documented 'Lessons Learned' & overall PMP experience  at my blog below   http://sachinvehale.blogspot.in/