PMP ITTO Complete Guide (Inputs, Tools, Techniques & Outputs)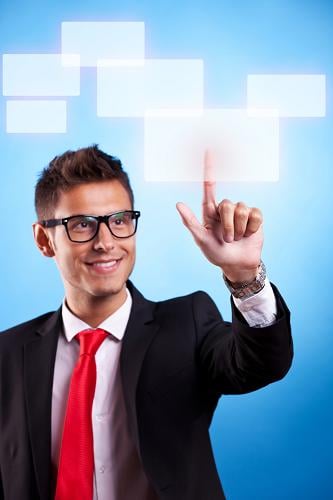 Whether you're just beginning your studies, or are well in to your journey to earning a Project Management Professional (PMP)® Certification, it's natural to feel a little insecure or intimidated by the seemingly endless PMP® ITTO that are diagrammed and discussed for each Project Management process. This one topic is probably responsible for more questions and anxiety for PMP® candidates than any other exam-related topic.
I have good news for you: understanding PMP ITTO and their relationships are logical, easily done, and this complete guide will show you how to understand and make ITTO your ally when taking the Exam.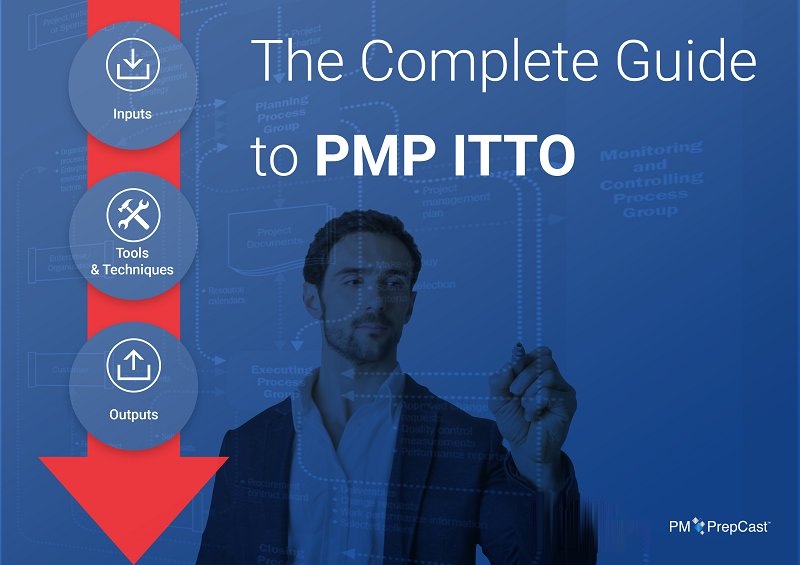 I promise you that by the end of this article you will have learned everything there is to know about the various aspects, facets and features of Inputs, Tools, Techniques and Outputs you need for your exam success.
We'll start this by putting ITTO into context, then move into the "What's" and "Why's" behind ITTO, and finish with "How's" of studying and using ITTO.
Putting ITTO in context
Student Success Story
The PrepCast talks about this, but after taking a few practice exams I found that studying the flow of ITTOs between processes was one thing that I needed to focus on on my own using the PMBOK® Guide, and this definitely paid off on the real exam. Focus on the relationships, not the lists.

Jonathan Emmons, PMP
Inputs, Tools, Techniques, and Outputs are the foundation and infrastructure of the Project Management processes discussed in the PMBOK® Guide. Also read PMBOK® Guide 6th Edition Knowledge Areas for Project Management - Process Groups and Processes - The Complete Guide for more on the relationships between Knowledge Areas and Process Groups.
I find putting things context helps me to understand them better; in this case, using an analogy of building a house works well. We all recognize there is a world of difference between a pile of building materials on plot of land and a finished house. The same location and materials are included in both; yet one is a pile of "things," the other can be a home that nurtures a family. This is where ITTO come in, they allow you to build the house (or, processes and projects in our case).
To build a house you need Inputs (plans, specifications, permits, financing, building materials, etc.), then you proceed to construction by using Tools and Techniques (skilled labor and trades, concrete, framing, electrical, plumbing, finish work, etc.); when done, you have a house as your Output.
To take the house building example even further, there is an order to constructing a house and relationships between construction actions and activities. For example, you can't frame the house until the foundation is constructed and you can't wire or plumb the house until it is framed. ITTO, and the Project Management Processes they support, have similar logical sequencing constraints and relationships.
Finally, to understand how a house is built, it is more important to know and understand the interrelationships and sequencing of construction activities than it is fixating on variable details, such as out how many nails may be needed – the same is true for processes and this Complete Guide will show you why.
What does ITTO stand for?
Let's start with the basics and then work through the "why's" and "how's." I've already stated in this Guide that ITTO stands for Inputs, Tools, Techniques, and Outputs. But, how are these terms defined? The following definitions and examples are taken directly from the Glossary and/or text, respectively, of the PMBOK® Guide – Sixth Edition:
Inputs

Any item, whether internal or external to the project which is required by a process before that process proceeds. May be an output from a predecessor process . Examples include:

Project charter
Project schedule
Resource calendars
Approved change requests
Enterprise Environmental Factors (EEF), such as government or industry standards, project management information system, organizational structure, culture, practices, and infrastructure, etc.
Organizational Process Assets (OPA), such as standardized guidelines, work instructions, project management templates, project files from previous projects, and other historical information, etc.

Tools

Something tangible, such as a template or software program, used in performing an activity to produce a product or result. Examples include:

Analytical techniques
Project management information system(s)
Benchmarking
Product analysis

Techniques

A defined systematic procedure employed by a human resource to perform an activity to produce a product or result or deliver a service, and that may employ one or more tools. Examples include:

Meetings
Expert judgment
Inspection
Interviews
Decomposition

Outputs

A product, result, or service generated by a process. May be an input to a successor process . Examples include:

Work performance information
Change requests
Project management plan updates
Organizational process assets updates
Project documents updates

These definitions are taken from the Glossary of Project Management Institute, A Guide to the Project Management Body of Knowledge, (PMBOK® Guide)– Sixth Edition, Project Management Institute Inc., 2017.
You probably noticed that I placed emphasis on two statement above. Both say that Outputs from one process may be Inputs to another – this important fact will show up repeatedly in this complete guide.
Why do I need to learn ITTO, it looks like a lot of work?
I get asked this question all the time. You're quite right to question the "why;" understanding why ITTO are used and are important will greatly aid in your studying for the exam. Let's decompose these questions into smaller, more manageable pieces to look at the "why" behind ITTO (similar to what you'd do for a project's scope and/or deliverables).
Why is the ITTO classification used?
Tip
The Project Management Plan is an Input for almost half of the Project Management processes.
ITTO are the logical extension of the classification/standardization system used in the PMBOK® Guide. The PMBOK® Guide is divided into 10 Project Management Knowledge Areas, each of which is developed and supported by the 5 Project Management Process Groups, where applicable – this results in a total of around 50 processes.
ITTO are a standardized means of systematically using the same method of developing and executing processes and projects. When you think about it, decomposing processes into ITTO reduces each to its most fundamental and basic components, and does so in a standardized manner that is equally applicable for all processes and projects. Understanding this allows you to build your project on a solid foundation from the ground up – like constructing a house.
Why are there so many ITTO?
There are many Project Management processes, and each of them have ITTO. The number of ITTOs associated with each process is proportional to the prerequisites (Inputs) necessary to start the process, the type(s) and level of effort necessary to do the process (Tools and Techniques), and the one or more things you produce from the process (Outputs).
Are each Project Management process's ITTO unique?
Some are; but, most aren't. By this I mean that there are some ITTO that show up only once (or even a handful of times). However, the majority of ITTO show up over and over – this is discussed in more detail below. Therefore, the number of ITTO you need to learn is actually far fewer than it first appears.
Many ITTO look familiar, where have I seen them before?
You're not imagining things, the majority of ITTO also show up as part of the vocabulary you need to be fluent in to pass the PMP exam. This allows you to double down on your studying by reinforcing vocabulary and ITTO at the same time. For more tips on studying for the PMP exam please review Creating Your PMP Study Plan - The Complete Guide.
What are PMP ITTO?
When project management practitioners refer to "PMP ITTO" they mean the global set of ITTO associated with all the Project Management processes detailed in the PMBOK® Guide, not ITTO related to one specific process. To understand how the ITTO are used, the PMBOK® Guide provides useful figures and tables that illustrate the interrelationships between Project Management processes that will greatly help your understanding of ITTO; the two most important are:
Figure 3-3. Project Management Process Interactions (p. 53 - FIFTH EDITION), which provides a diagram with an overview, or "big picture" summary of project management process. This particular figure is taken from the FIFTH EDITION, because the Sixth Edition no longer includes it. And even though the details of the drawing are no longer accurate because many of the ITTOs have changed, the 'big idea' is still correct: ITTOs flow between processes and process groups in many ways.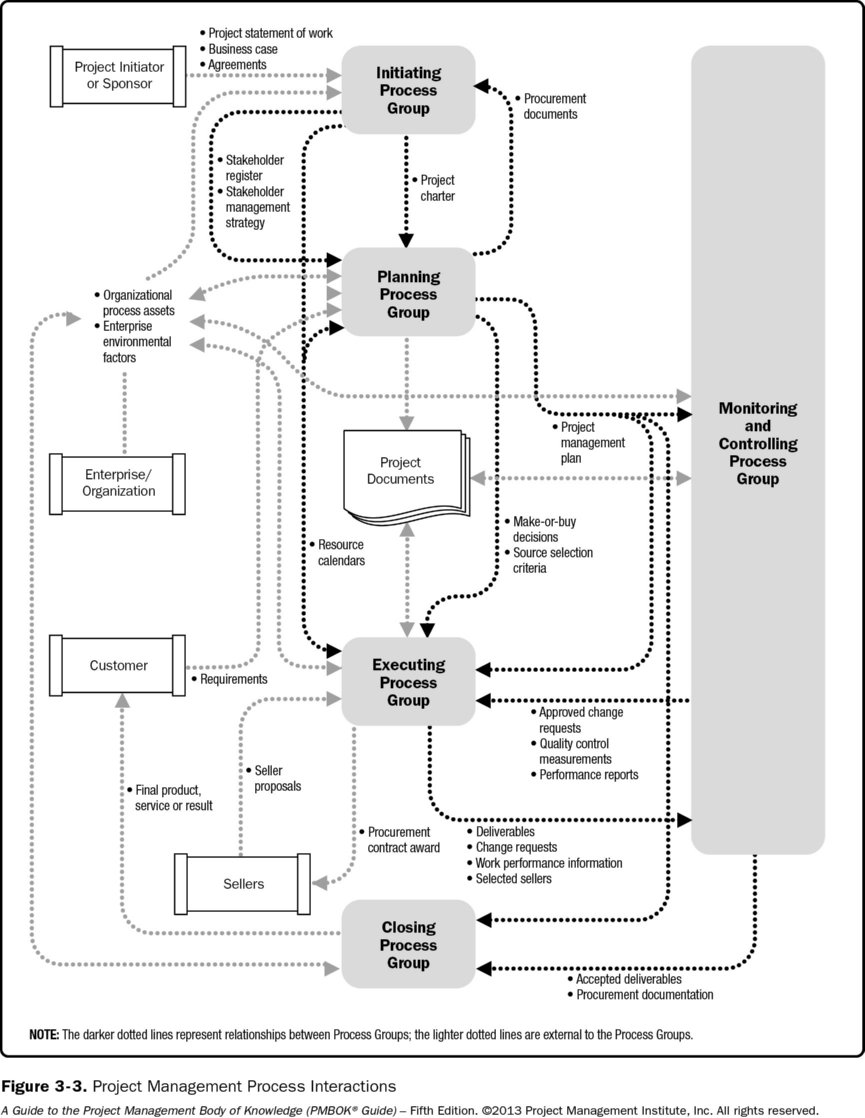 Again, the figure above is from the PMBOK® Guide - FIFTH EDITION. Do not look at the details of the data flow. Instead look at the overall concept this figure is trying to get across: ITTOs and data flows between processes and process groups in many, many ways.
Table 1-4. Project Management Process Group and Knowledge Area Mapping (p. 25), which is arguably the single most important summary of information in the PMBOK® Guide and something you should intimately know forwards and backwards.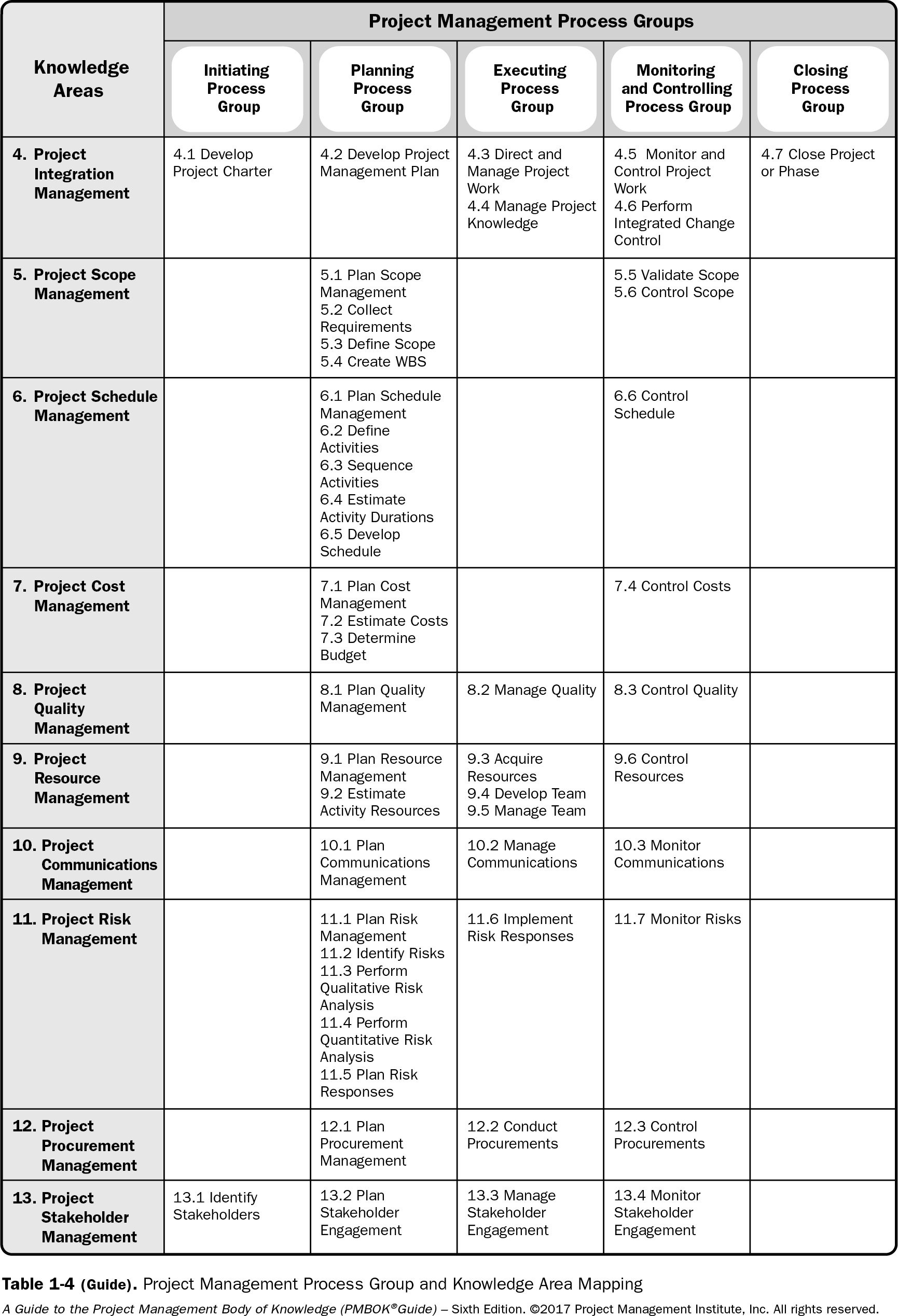 Studying and understanding the relationships of Knowledge Areas, Process Groups and processes, as shown in Table 1-4 are critical to your understanding of where ITTO are used and your ability to pass the exam.
Can ITTO Outputs also be Inputs?
Yes, they absolutely can (and frequently are). PMP ITTO and Project Management Processes in general are not "one and done" linear processes. Rather, like a project, ITTO form a circular system of relationships, feedback, and continuous improvement.
And just to be absolutely clear, a system can be defined as: "A collection of parts that interact with each other to function as a whole." (James P. Lewis; Mastering Project Management, p. 90) or "a set of interacting or interdependent components forming an integrated whole" (Wikipedia).
An everyday simple example of this type of system with outputs from one process becoming an input to another is baking a cake, which is made up of three processes:
1. Making batter
Inputs: flour, eggs, milk, baking powder, spices, etc.
Tools and Techniques: mixing and combining wet and dry ingredients
Output: cake batter
2. Baking
Inputs: cake batter
Tools and Techniques: cake pans and cooking process in oven
Output: baked cake
3. Frosting/Icing
Inputs: baked cake, ingredients to make frosting/icing
Tools and Techniques: make frosting/icing, cake stand, spatula, piping bag, ice the cake
Outputs: Frosted/iced cake ready for serving
Returning to PMP ITTO, not only can Outputs from one process be Inputs to one or more other processes, these Inputs/Outputs relationships can and do cross Project Management Knowledge Area and Process Group boundaries. For example, the Output of Develop Project Management Plan (i.e. the Project Management Plan) is an Input to the following Project Management Processes:
4.3 Direct and Manage Project Work
4.4 Manage Project Knowledge
4.5 Monitor and Control Project Work
4.6 Perform Integrated Change Control
4.7 Close Project or Phase
5.1 Plan Scope Management
5.2 Collect Requirements
5.3 Define Scope
5.4 Create WBS
5.5 Validate Scope
5.6 Control Scope
6.1 Plan Schedule Management
6.2 Define Activities
6.3 Sequence Activties
6.4 Estimate Activity Duration
6.5 Develop Schedule
6.6 Control Schedule
And every single process hereafter!
Project Management Institute, A Guide to the Project Management Body of Knowledge, (PMBOK® Guide) – Sixt Edition, Project Management Institute Inc., Figures 4-1, 5-1, 6-1, and so on until 13-1.
So almost every single Project Management process has the Project Management Plan as an Input. It makes sense: all of these Processes are directly affected by, controlled, informed, or based on the Project Management Plan.
How can I use the PMBOK® Guide to study ITTO?
Student Success Story
I didn't try to memorize all the ITTOs at all. What I did was to draw my own process boxes and connect the outputs and inputs together. Such graphical presentation was very helpful for me. With such diagrams I covered like 50-60% of ITTOs plus additional ones that are obvious I think I covered like 80-90% of all ITTOs and processes.

Anton Petrič, PMP
Now that we've touched on the "What" and "Why" of ITTO, we can move on to the "How."
ITTO are clearly labeled and presented in multiple ways in the PMBOK® Guide. Additionally, the authors of the PMBOK® Guide recognize that not everyone finds reading information as the best way to learn. Therefore, in addition to text, they have included a series of figures and tables as aids to clarify processes and illustrate ITTO interrelationships.
The PMBOK® Guide is very well organized and designed to make finding information as quick and painless as possible. It is presented in chapters based on Knowledge Areas, which are further separated into chapters for each process within that Knowledge Area, and for each process inputs, tools, techniques and outputs are described in detail.
If you're a visual learner, the Table of Contents will simplify your study process, as it includes 11 pages of "List of Tables and Figures" that identifies each and every table and figure and on what page it is found.
There are three types of figures that are presented for each of the Project Management Knowledge Areas and Process Groups that are particularly important to you for studying PMP tools and techniques and understanding ITTO:
Knowledge Area Overview Figure
At the beginning of each Knowledge Area chapter is a figure that illustrates its processes including a summary of inputs, tools and techniques and outputs.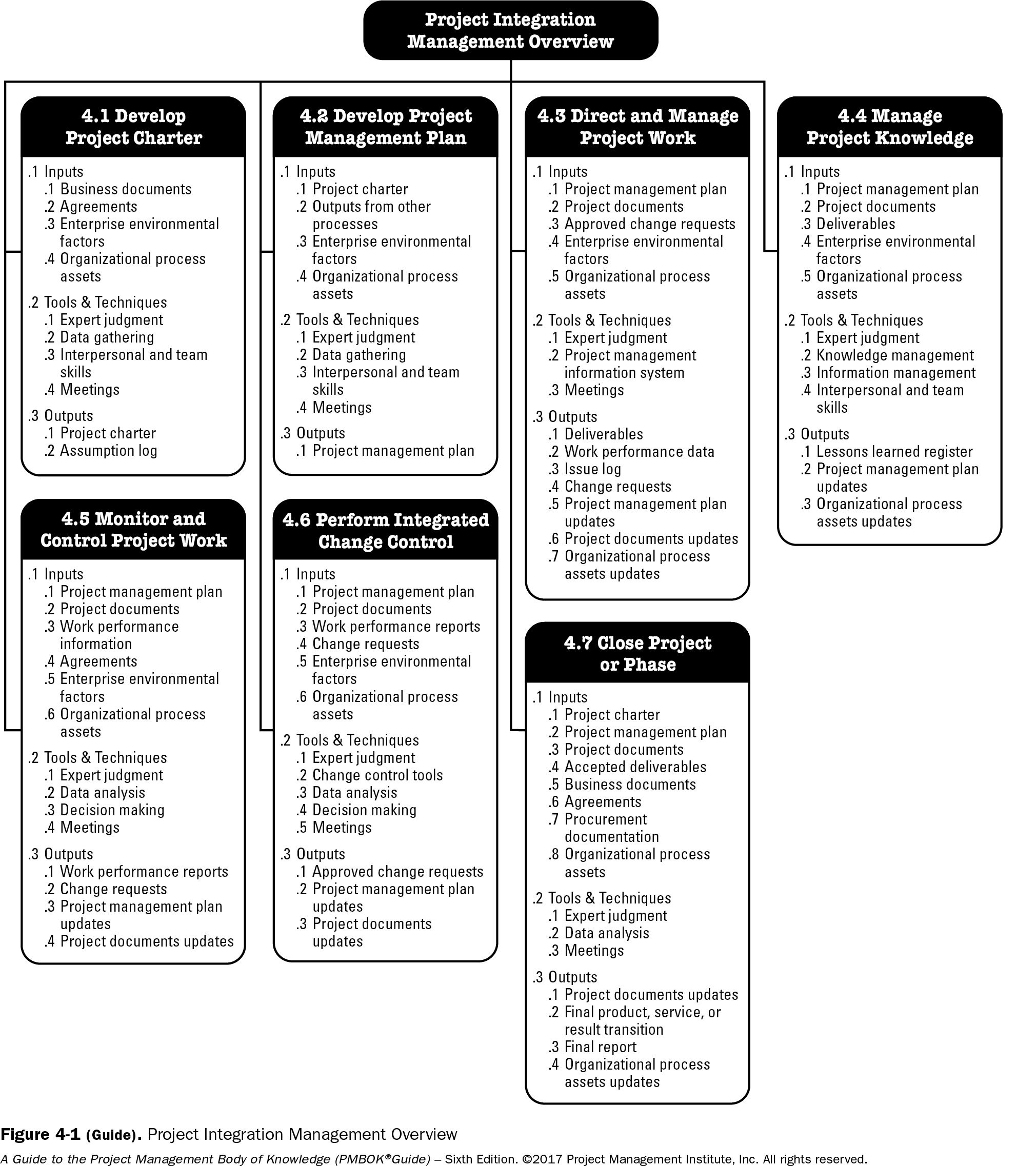 ITTO Figure
Each of the processes is introduced with a figure that presents the ITTO for that process.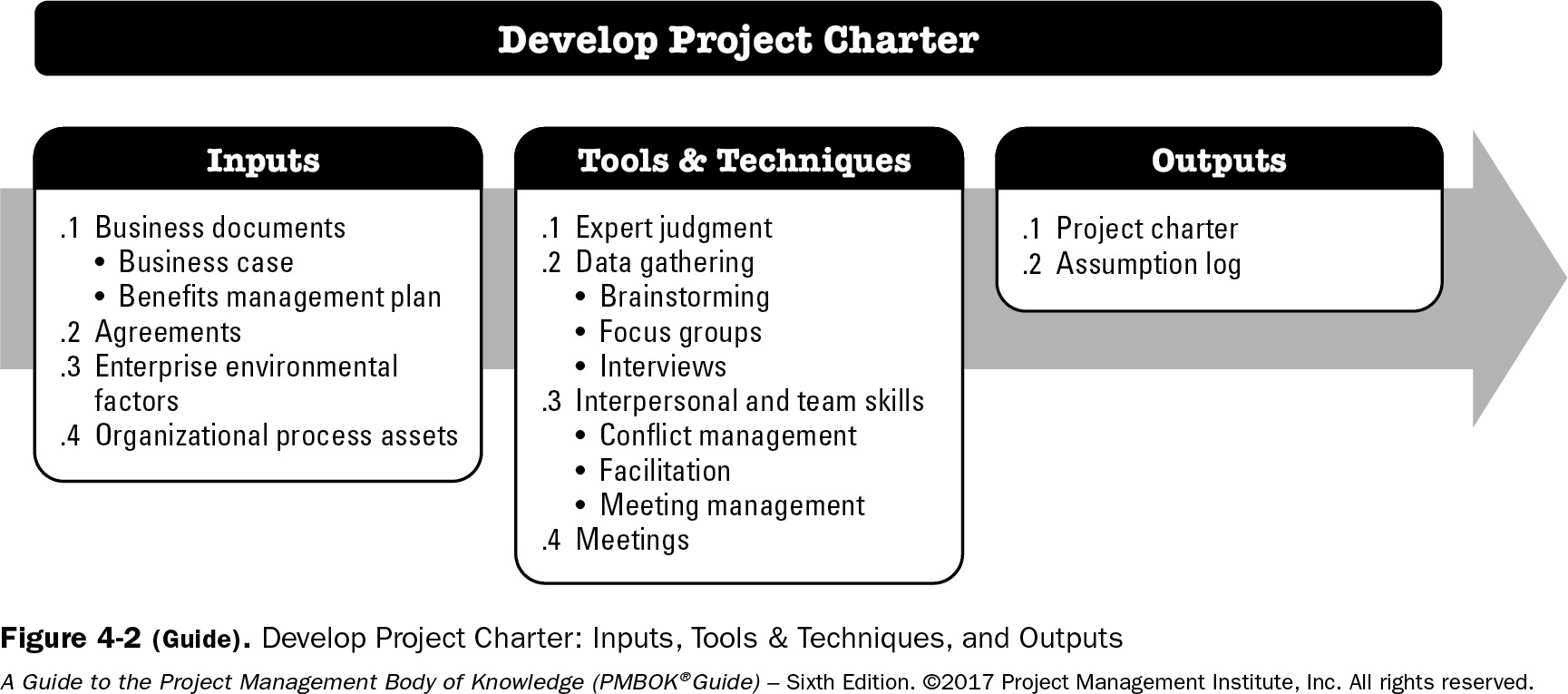 Data Flow Diagram
Each process is also illustrated as a data flow diagram presenting the relationships between Inputs needed to execute it as well as how the Output(s) of the process are used as Inputs for other processes.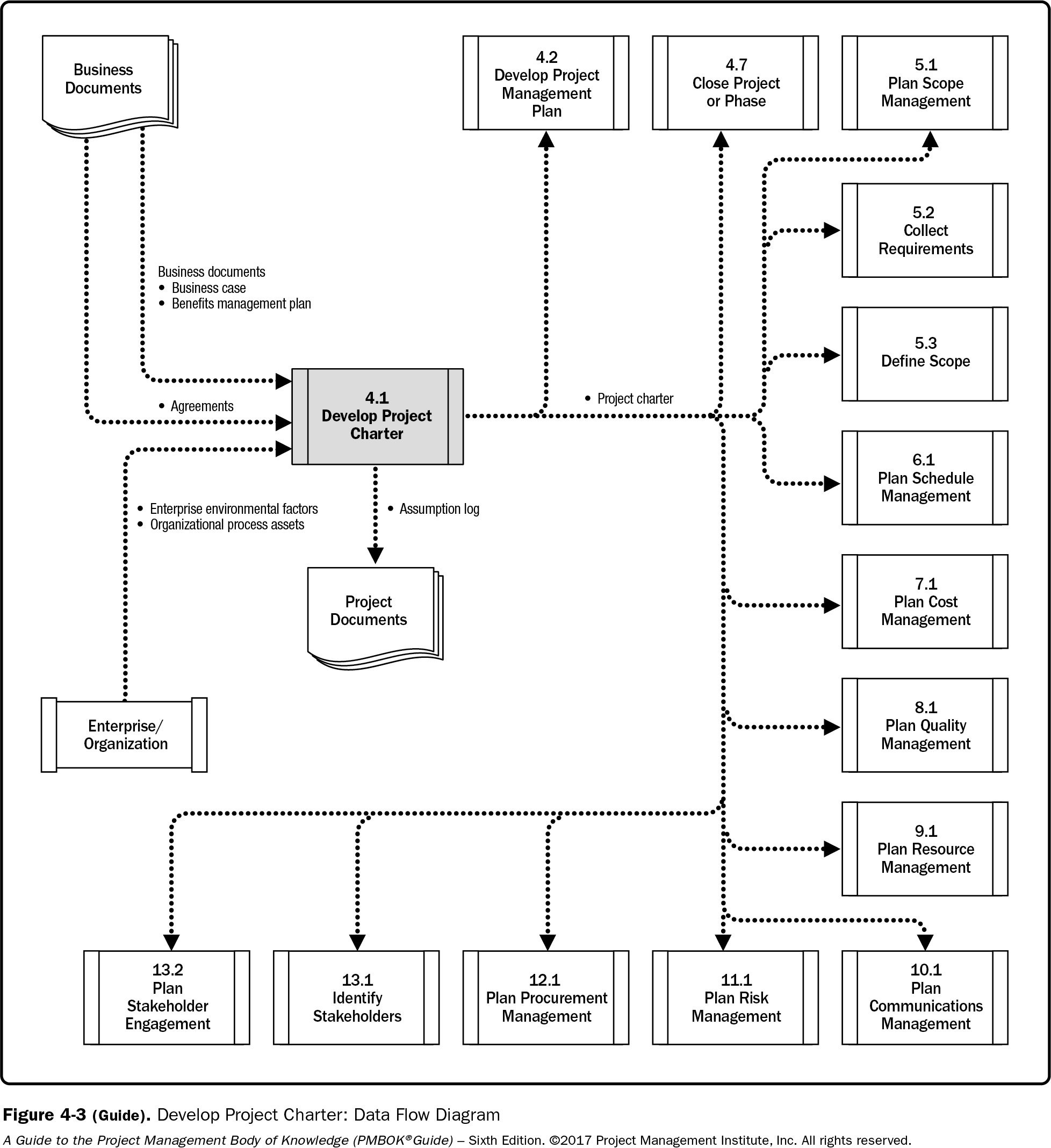 Watch this video quick-tip to learn why it is so important to keep The PMBOK® Guide in mind during your PMP Exam:
Should I Create My Own ITTO Chart?
Student Success Story
I made an excel sheet with all of the processes by group and the ITTOs in order to identify patterns in the ITTOs. I did not memorize ITTOs, rather looked for patterns, especially with the PM Plan, OPAs, etc.

Frances Carley, PMP
Yes. In addition to using the PMBOK® Guide to study ITTO, I highly recommend creating your own PMP ITTO chart (aka PMP ITTO spreadsheet) as a study exercise and tool. Many of the PMP® students I've coached have found the exercise of charting ITTO to be a good way to better understand ITTO, as well as a means to better understand the interrelationships of the processes. But, don't just take my word for it. William Zinsser, in his excellent 1993 book Writing to Learn, discusses how writing about a field of knowledge is the best way to immerse oneself it a subject, identify and understand not just the key points but the supporting details, and is a path to "owning" the subject.
How you choose to create your own ITTO chart will be based on how you learn and what works best for you. However, most students tend to take the information that they find in the PMBOK® Guide and then organize it into a format that works for them.
Click here for ITTO Spreadsheet Samples on Google...
As you will see, the information needed to prepare these kind of charts is included in the PMBOK® Guide text, as well as in overview diagrams and the ITTO figure. The best approach is usually to take a very direct, simple format – use the name of the process and corresponding chapter/section number from the PMBOK® Guide as the title and ITTO are broken into Inputs, Tools and Techniques, and Outputs.
Creating an this type of chart is more than a learning exercise, you will be creating a concise reference document to supplement your other study aids, as well as developing a quick reference guide that you'll find yourself using as your project management career progresses.
What is the best way to learn ITTO for the PMP Exam?
Student Success Story
My approach was to understand the logical flow of inputs and outputs, linking them accordingly, and absolutely NO memorizing required.

Prakash Rashinkar, PMP
I'm often asked two similar but distinctly different questions:
How to learn ITTO for the PMP exam?
How to memorize ITTO for the PMP exam?
One short answer will address both these questions: Study and learn what each ITTO is and learn why you need them in each process. Don't attempt to memorize them!
While we all know people that are capable of memorizing all the ITTO, most of us can't. This is not a bad thing! It is more important to understand the how's, why's, and relationships between ITTO than it is to attempt to memorize all of them. Passing your PMP certification exam is best done by understanding and applying concepts, not memorizing facts.
There are two great tools for learning and understanding ITTO that many of my successful PMP candidates have used in preparing for the exam.
The first we have already discussed, preparing a PMP input/output chart to reinforce ITTO relationships.
The second tool is just as simple and is very effective, buying or creating your own PMP ITTO flashcards to reinforce the details of Project Management Process Group-specific ITTO details.
Both tools have repeatedly proven effective as study tools and both are great way to exercise "writing to learn."
Studying ITTO presented in the PMBOK® Guide, creating your own ITTO chart, using flashcards, and understanding the system of relationships and interrelationships between ITTO will provide you with information, knowledge, and expertise that will sustain your project management career. Memorizing ITTO for the PMP exam will be a function of your short-term memory, which will soon be forgotten or "lost" when not used.
Summary
Student Success Story
Please do NOT memorize ITTO. Period.

Mukesh Kumar Singh, PMP
After reading this Complete Guide to PMP ITTO you should be more comfortable and knowledgeable about the basic "What's," "Why's," and "How's" of studying and using ITTO. To recap what we've covered in this Guide:
ITTO form the foundation and framework for the nearly fifty Project Management processes.
Outputs from one process can be Inputs for another.
For the most part, ITTO are not unique to a specific process and the number of ITTO you have to learn is much shorter than it first appears.
It is better and more productive to understand ITTO and their interrelationships than it is to attempt to memorize all of them.
There are excellent figures and tables in the PMBOK® Guide that will help you understand and study ITTO for the exam.
Preparing a PMP ITTO chart (summary spreadsheet) and flashcards are two excellent ways to use "writing to learn" to bolster your preparation for the exam.
Learning the PMP ITTO is a significant undertaking, but with a solid commitment to studying and learning, a study plan developed by you for your personal circumstances, and diligent effort, you will learn and understand ITTO. Additionally, your return on this investment of effort compounds with time – the same way that a house appreciates in value – being well prepared and passing the PMP exam increase your market value.
© 2015-2023 OSP International LLC. All rights reserved. This copyrighted article may not be reproduced without express written consent of OSP International LLC.