How To Get PMP Certification - The Complete Guide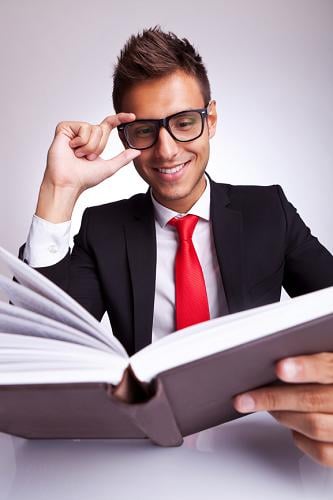 If you are preparing for your PMP® exam then you probably have many questions and "How to get PMP certified?" is just the start... But don't worry, because you have come to the right place! In this article I will answer every possible question that you may have about the PMP Exam!
We begin with the PMP Exam requirements, move on to A Guide to the Project Management Body of Knowledge (PMBOK® Guide), discuss resources you need for your studies, explain several exam preparation strategies, memorization techniques, brain dump sheets, time management during the actual exam, and about a dozen more topics that you will find valuable.
And no article like this could be complete without PMP exam tips. You'll find those highlighted in each section.
Most importantly, I don't expect you to read the whole article at once. Instead, I recommend that you start by reviewing the table of contents just below to quickly find the answers to your most pressing questions. And once you have those questions answered you should come back to the top and read the article all the way. It really is "The Ultimate Guide To How To Get PMP Certification".
What does PMP Stand for?
PMP stands for "Project Management Professional".
The Project Management Professional (PMP)® is a credential offered by the Project Management Institute (PMI)®. There are currently 618,933 active PMP certified individuals across 104 countries worldwide.
From the PMI® Website
PMI's Project Management Professional (PMP)® credential is the most important industry-recognized certification for project managers. Globally recognized and demanded, the PMP® demonstrates that you have the experience, education and competency to lead and direct projects.
What are the PMP Requirements?
The PMP Exam requirements are defined in the first few pages of The Project Management Professional (PMP)® Handbook. Essentially you need "project management experience" and "project management education":
If you have a Four-Year Degree
Bachelor's degree or global equivalent
Three years of PM experience
4,500 hours of leading + directing projects
35 contact hours of formal education
If you have a Secondary Degree
High school diploma, associate's degree or global equivalent
Five years of PM experience
7,500 hours of leading + directing projects
35 contact hours of formal education
PMI defines "Leading and directing the project" as identified with the tasks, knowledge, and skills specific in the Project Management Professional (PMP)® Examination Content Outline. You should have experience in all five process groups across all your project management experience submitted on the application. However, on a single project, you do not need to have experience in all five process group.
What is the PMP Application Process?
Tip
Once you start the online PMP application process you have 90 days to complete it. It's more than enough time even if you have to research some information.
I recommend that you fill in your PMP application form online at the PMI website. Start by creating an account and then simply follow all the steps in the application process. The website will take you step-by-step through the following high-level application process:
Application submission
Application completeness review
Payment
Audit process (random selection)
Application approval
Exam
Please click here to begin your PMP Application.
How is my PMP Work Experience Verified?
There are basically two phases during which your project management work experience is verified:
Application Completeness Review

This review starts after you submit your application online and takes about 5 days. During this time PMI will perform a high-level review of your application to ensure that everything is filled in properly and "looks right". It is expected that this entails a cursory review of your PMP work experience. However, nobody but PMI really knows what exactly is reviewed. At the end of this process PMI will allow you to proceed and pay for your application.

Application Audit Process

Once you have paid for your application the algorithm may randomly select your application for audit. If you are selected then you will need to go through the in-depth audit process, which includes an extensive review of your work experience. This involves having to write to your named contact persons who have to personally sign your application to confirm that the work experience you listed is correct.
Please refer to the Project Management Professional Handbook for the exact details of the audit process.
Is There an Age Limitation to Take the Exam?
No. PMI does not impose age limitations on any of its certifications.
Is the PMP Exam Hard?
Student Success Story
I've taken many standardized test like the MCAT, GMAT, GRE, etc but this PMP was the hardest test I've ever taken.

Dee Sanchez, PMP
Yes. It is hard. There is no doubt. But it is not impossible!
Here are some of the factors that make it hard:
Demanding eligibility requirements
Project management experience must be within previous 8 years
PMBOK® Guide often leaves room for interpretation
Candidates' experience may differ from "PMI world"
The exam tests experience, not knowledge
Exam questions are often ambiguous with two answer being possibly correct
New questions are constantly developed and are based on new trends
Questions are not only based on PMBOK® Guide but can come "from anywhere"
But please don't despair! Even though the PMP exam is one of the hardest exams out there, over 610,000 project managers around the world have successfully navigated its treacherous waters and came out with the certificate at the other end!
And if so many have passed already, then you can do it too!
The best place to start for some motivation and inspiration are the lessons learned from those who have succeeded. Spend about an hour going through their stories and you will agree: The PMP Exam is hard -- but it can be done.
What is the PMP Pass Rate?
Careful!
Some websites claim that the PMP passing rate is 61% or some other percentage. This is incorrect! Nobody but PMI knows the exact number and they don't publish it.
We don't know because PMI does not publish official numbers about the PMP exam pass rate.
We do know, however, that passing the exam is not determined by a simple percentage of questions that you answer correctly. Instead, PMI tells us that it is calculated using a sound psychometric analysis. In theory this means that the exam consists of easy, moderate and hard questions. The harder questions are worth more than the easier questions. So you get a higher score if you answer more of the harder questions correctly and a lower score if you answer more of the easier questions correctly. The minimum score needed to pass is determined by the overall difficulty of your individual exam.
But this is just the theory and nobody but PMI knows how exactly the psychometric approach was implemented.
So this leaves you with a catch 22 situation: You want to know if your score in the simulator is sufficient to pass, but PMI doesn't tell you what the exam passing rate is, so there is no way for you to compare.
Here is one way to get around this problem:
Are You Exam Ready?
Answer as many PMP mock questions as possible.
Track how many you answer correctly/incorrectly the first time you give an answer to a question.
If you consistently answer at least 85% of the questions correctly (in your FIRST attempt only!), then this is an indicator that you are getting close to exam readiness.
Important: The above measure is only an approximation. It is really hard to determine someone's readiness. Only you can make the final judgment call and decide if you are ready or not.
When Does the PMP Exam Change?
PMP exam changes happen regularly. In fact, there probably was a change to the exam just yesterday. This is because PMI develops and releases new exam questions on an ongoing basis. Adding new questions can be viewed as a 'minor' update. But PMI also has 'major' updates.
As project management evolves, so do PMI's standards. The PMBOK® Guide is updated like clockwork -- every four years. And so the PMP exam questions are changed to reflect the most recent version of the PMBOK® Guide. The change to the new exam happened/happens on the 31st of July of 2001, 2005, 2009, 2013, 2017, 2021, 2025, and so on. You get the idea.
As an example: The PMBOK® Guide 6th edition was released in September 2017 and the the PMP exam was updated to reflect this new standard on the 21st of March, 2018.
Here is an article that describes the impact of the 'major' change in 2017/2018 and tells you How to upgrade yourself to the PMBOK Guide Sixth Edition.
The impact will be very similar for future 'major' updates.
What are the PMP Certification Exam Dates?
You can schedule and take your PMP exam from Monday to Saturday on pretty much any day of the year. The exact availability of a seat depends on the opening hours of your local Pearson VUE test center. Follow these steps to schedule your exam:
Visit Pearson VUE
Select "Schedule my test"
Select your Country (and optionally the State)
Click on "Search for Availability"
Continue to narrow the selection for the testing center until you have the one nearest to you that offers "PMP" testing
Select your date and time and proceed to scheduling
Please note that you cannot schedule your exam unless you have received the eligibility letter from PMI with your candidate number.
What is the Difference Between CAPM® vs PMP?
Are trying to decide if you should become CAPM or PMP certified? The decision is relatively easy: The CAPM is for junior PMs, and the PMP is for senior PMs.
Here's a short comparison:
Certified Associate in Project Management (CAPM)®
If you are a junior project management practitioner and have demonstrated your skills as a project team member, then the Certified Associate in Project Management is the best option. You will get the fundamental knowledge of processes and terminology that will help you effectively manage projects.
For the CAPM certification, all you need is a high school diploma and either 1,500 hours of professional experience on a project team or 23 hours of project management training. Actual leadership experience as a PM is not required.
Ideal for Junior Project Managers.
Project Management Professional (PMP)®
If you lead the team and direct all project tasks then you should go for the Project Management Professional credential. You will develop an in-depth understanding of the skills necessary to lead and direct project teams to deliver results within the constraints of budget, time, scope quality, risk and resources.
The credential requires 3 years of professional experience with at least 4,500 hours spent leading and directing project tasks. With a high school diploma this increases to 5 years and 7,500 hours. Leadership experience as a PM is a central point.
Ideal for Senior Project Managers.
Currently, the PMP is the most sought after project management credential in the world.
How to Prepare for PMP
Everyone has different ways of preparing for the PMP exam. So we decided to take the scientific approach and analyze dozens of lessons learned from our past students. We wondered and wanted to see if there are any specific traits or activities that are a recurring theme for success.
We found seven:
The Lessons Learned Guide to "How to Prepare for the PMP Exam"
---
Develop a Plan

You are a project manager and developing a plan at the start of your "certification project" should be second nature to you.

Study the PMBOK® Guide

Even though this seems obvious, it bears repeating -- you must purchase a copy of the current PMBOK® Guide and then go through it twice.

Answer Sample Questions

There is a reason why Michael Phelps won so many gold medals at the Olympic Games... he practiced and improved his swimming technique daily. And if you want to "win a gold medal" that says you are now a certified project manager, then you are going to have to practice answering exam sample questions for the complete duration of your exam prep.

Convert "Down Time" to "Study Time"

Let's say you are waiting in line at the post office and things are moving really, really slowly. Wouldn't it be great if you could just take out your phone and play a training video? So make sure you always have your study materials with you so that "lost time" becomes "study time".

Believe in Yourself

Many people confirm that becoming a Project Management Professional is not an easy task. It takes focus, dedication and you have to be self-motivated. But the good news is that thousands of us have done it before. So trust in your abilities and believe that you, too, can pass this exam.

Learn the Right Pace

Answering 200 questions in 4 hours is no easy task. It's no surprise that most people run out of time the first time they sit down for a complete, simulated exam. Keep at it, learn how to analyze and answer questions promptly, and you'll have plenty of time on your big day.

Read Lessons Learned

Every day dozens of people receive their PMP Certificate and many of them will write and publish a report of how they prepared and passed the exam. This is known as a PMP Lessons Learned. By reading and learning from them you not only get an insider's view into the exam, but you'll also get helpful tips from those who have been there before you.
As with everything -- there is no guarantee that you will pass your own exam with a perfect score when you apply these actions to your own study approach. But it definitely increases your chances.
What is a Good PMP Study Plan?
After teaching over 30,000 students in preparation for their exam, I have developed the following 10-step PMP Study Plan:
Read the PMI Credentials Handbook.
Make sure that you are eligible to become a PMI certified project manager.
Become a PMI Member + Member of your local PMI Chapter.
Sign up for the PMP Exam.
Read the PMBOK® Guide. Twice.
Listen to a PMP Audio Workshop or Read a PMP Preparation Book.
Take an In-Person PMP Workshop.
Answer as many Sample PMP Exam Questions as you can.
Study Hard and have a Plan.
Take the Exam.
The details for each of these 10 steps are described in my article "Ten Steps to Becoming a PMP".
What is the Secret of How to Pass the PMP on the First Try?
"How to pass PMP" is one of the top searches at Google in regards to succeeding on this exam.
So... Is there something like a "secret ingredient" or a "silver bullet" that ensures you pass the PMP Exam? No... there isn't really. But we have identified seven components (project management concepts and best practices) that everyone preparing for the exam should know:
What is PMBOK® Guide?
Tip
About 75% of the knowledge needed for the PMP Exam is directly related to the PMBOK® Guide.
"pim-bok" is the conversational way in which project managers refer to A Guide to the Project Management Body of Knowledge (PMBOK® Guide).
It's actually more correct to say PMBOK® Guide than simply "pim-bok", because "pim-bok" refers to everything that anyone knows about project management, while PMBOK® Guide refers to just the book and its contents.
Anyway... The PMBOK® Guide is the number one global standard for project management. It was developed and is updated by the Project Management Institute (PMI). It provides you as a practitioner with fundamental project management concepts and approaches needed to successfully deliver a project. It is important to note that the PMBOK® Guide is a framework and not a methodology -- so it describes the structure of project management, but does not prescribe what detailed principles and practices you must use.
The PMBOK® Guide is mandatory reading for anyone preparing for the PMP Exam. This is because a large portion (approximately 75%) of the knowledge needed to pass the exam comes from the guide. However, it is important to remember that the exam doesn't test your knowledge of the guide's content, but instead it tests your understanding of the practical application of the principles described.
Do I Have to Memorize the PMBOK® Guide to Pass the PMP Exam?
No. In order to succeed on the exam, you will need to have a lot of hands-on experience in project management and be able to relate it to the theory in the PMBOK® Guide. That's why a minimum of 4,500 hours of experience (7,500 if you don't have a Bachelor's Degree) is a prerequisite to take the exam.
Your real-life experience of managing projects in your industry will make everything much easier. Many situations in the questions will be familiar to you because you have lived through them.
My recommendations:
Study the PMBOK® Guide at least two to three times.
Begin applying the principles described on your day to day projects and also relate them back to your previous projects. That way you will see how these principles work. Doing it this way will make you a better project manager and help you pass the exam, as opposed to just mindless memorization.
Is the PMBOK® Guide Enough or do I Need More PMP Certification Study Material?
I have only seen a handful of lessons learned from successful students in which they reported that studying the PMBOK® Guide was all they did for preparation. Most of us - and that included me! - need more help.
Try to look at PMP online forums where successful exam takers are more than willing to share their experiences in taking the exam. Read their lessons learned to hear what topics may appear. This can be an essential part of your preparation, but don't get carried away. Spending a few minutes daily, reviewing and commenting on posts is usually sufficient.
So instead of muddling your brains with too many prep books, choose the one you like best to complement your PMBOK® Guide studies to ensure a successful exam.
How many PMP Study Materials should I use?
Tip
Don't just read the PMBOK® Guide -- you have to study it. Give it your full attention to absorb the material and comprehend the concepts.
Unfortunately, the old mantra "if a little is good, then a lot must be better" does not hold true when it comes to preparing for the PMP exam.
What usually happens is that students use too many PMP study materials and then get confused. They try to study not just one PMP prep book but several. They sign up to multiple online courses and answer every free online sample question they can find, thinking that they will be able to absorb everything that they watch and read. That is far from the truth.
Too many books will in fact confuse you. Usually, one good exam prep book and one course is enough to complement the PMBOK® Guide. Studying the PMBOK® Guide is of course a must for any PMP exam prep student and no exam prep book is a substitute for it.
And don't forget to study the PMBOK® Guide glossary. As boring as that may seem, you'll really get to know and understand the terminology you need for the exam. So instead of muddling your brains with too many prep books, choose the one you like best to complement your PMBOK® Guide studies to ensure you successfully pass the exam.
Which is the Best PMP Book?
This is very hard to say because it is a matter of taste. First of all, the book you choose has to support your personal learning style. And second of all, you also have to like the way it is written.
The good news here is that we can safely say this: No matter which PMP exam prep book you choose it will take you to the exam. This is because all of the popular books have been around for several years. They are in their 4th, 5th or even 8th edition and have been refined over many years. The authors include and explain the concepts you need.
So I recommend that you go to your local bookstore or library and leaf through the available guides. Or -- if you prefer -- use the "look inside" feature offered by Amazon. This will give you an idea of what the book is like and if it will work for you.
Can I Pass the Exam with PMP Self Study?
Yes you can! In fact, I have helped over 30,000 students to prepare for their PMP exam with my PMP self study course. And I am not alone because most training providers these days offer a self-study option.
Consider the following options if you are planning to study on your own:
The PMBOK® Guide

Study it at least twice. There is no way around it.

Online PMP Courses

Almost all training providers offer a recorded version of their PMP training online. Some are better -- some are worse. As a rule of thumb we can say that those courses specifically developed for online consumption are better suited.

Downloadable Courses Like a PMP Podcast

Using a PMP podcast (or another form of a downloadable course) gives you the flexibility to carry the course with you no matter where you go. In this way you can study practically everywhere. For example you can whip out your phone as you are waiting at the doctors office and watch 15 minutes of training.

Books and Study Guides

Next to the PMBOK® Guide you also want to purchase a good exam prep book, also known as a "PMP Study Guide". The best use of such a guide is to read it parallel to the PMBOK® Guide. Study a chapter in the guide, which is very dry and academic. Then go ahead and review the same chapter/topic in your separate book, which will explain the concepts and methods in much more approachable language.

YouTube Videos

YouTube offers a vast number of exam training videos for you to watch for free. Please do not make these videos your primary (or only) source of exam prep training because more often than not these videos are only focusing on one specific concept and they simply cannot deliver the full training you need in your exam preparation.

Exam Simulators

As you are preparing for the exam using self-study, the only way for you to gauge if you are ready to take the exam is by using an exam simulator. These simulators allow you to take "mock" exams with 200 questions to be answered in 4 hours -- just like the real thing. This allows you to measure and see how you are doing.

Study Groups or Study Partners

Even though we are talking about "self" study here, we must discuss the fact that studying on your own can sometimes be a bore! You have to be really good at motivating yourself to stay focused and upbeat for weeks at end. So why not reach out and find a study partner? And in today's day and age your study partner doesn't even have to live in your area. You can easily meet twice a week over Skype. You can find a study partner by posting a message in online forums, which is our next point just below.

Online Forums

Are you stuck in your studies? Got a question? Need a study partner but don't know where to turn? There are dozens of online forums where you can post your question and get answers! Our two recommendations are a LinkedIn Group called I want to be a PMP and our very own PMP Exam Forum.
Can a PMP Instructor Help me Succeed?
Preparing for the PMP exam on your own -- though possible -- can be difficult. It's hard to keep motivated and not lose sight of the end goal. A second person can help guide you in your studies and keeps you motivated.
What about getting a PMP mentor to help you prepare? If that seems like a good idea, then you have three options:
Personal PMP Coach

A local instructor whom you can meet face to face to discuss your questions and receive guidance.

Remote PMP Tutor

A remote instructor who meets with you virtually over the phone or an online collaboration tool. This can be one-on-one or in a group.

Recorded PMP Coaching

An example for such a recorded coaching course is The PM StudyCoach. It's a series of 14 recorded coaching sessions guiding you in your studies over the course of ten weeks.
There are many pros and cons for each of these three options. The pre-recorded is by far the most cost effective, the local coach is the most personal, and the remote coach the most flexible. Listen to the following podcasts for an overview of what a coach does -- we also added 3 success stories of actual students who have used a PMP coach:
The 7 Questions Every PMP Exam Coaching Student Asks:
PMP Exam Coaching Lessons Learned with Cathy Vasile:
PMP Exam Coaching Lessons Learned with Derek Satz:
PMP Exam Coaching Lessons Learned with Tara Guidi:
How a PMP Exam Coach helps You Overcome a failed PMP Exam:
What is a PMP Mock Exam?
Student Success Story
My last 2 weeks I spent taking quizzes over and over in the PMP Exam Simulator which was vital. The ability to take "learning quizzes", simulated exams, and to see statistically where I was strong and where I needed help was HUGE.

Patrick Marcigliano, PMP
A PMP mock exam simulates the real exam experience for you, so that you can practice. As an analogy you can think of it as a flight-simulator for the PMP exam allowing you to hone your test-taking skills.
Mock exams often come in the form of a PMP exam simulator. The simulator software mimics the real exam experience as closely as possible in terms of features, functionality and content.
The most important part of the simulator is the content, which comes in the form of PMP sample questions. A good online PMP test will offer at least five complete exams. That's five exams with 200 questions each, allowing you to practice on 1,000 questions before you go to take the real exam.
Feedback from successful exam takers seems to indicate that preparation with an online exam simulator is a vital key for passing the exam.
How do I Select a PMP Exam Simulator?
We have developed the following list of criteria to help you in your selection process. Use these to compare the simulators on your short list against each other.
Must be developed by a trusted and experienced education provider

A trusted and experienced provider should follow strict quality requirements. In this way, you can be sure that your simulator matches what you will encounter on your real exam.

Establish that it meets your budget

This is a given. The simulator has to be affordable for you.

It must be based on the most recent PMBOK® Guide

This is potentially the most important criteria in this list because every so often I still come across free PMP exam sample questions that are based on previous versions. This is like reading an astronomy text book from the middle ages and learning that the world is flat!

Questions, questions, questions

The more questions a simulator offers the better for you! And the more people participated in the development of those questions the better as well. The "real" PMP exam questions are developed by dozens of volunteers from around the world. So you want to make sure that your chosen simulator has a large team of developers as well.

Detailed answers, explanations and reference

Once you have completed an exam in the simulator you want to spend some time in reviewing your result. A good rule of thumb is to invest the same time in reviewing the exam result as you did in taking the exam itself. To help you in your review you want to make sure that the simulator offers detailed answers, explanations and references (i.e. page number in PMBOK® Guide) for each question you were asked.

Careful!

Never prepare for your PMP exam on your phone or tablet. You will take the real PMP exam at a desk with mouse and keyboard. So practice "the real thing".

It must have full exam mode

Of course! The simulator you choose must offer the capability of taking at least five full exams -- That's five exams, all containing 200 questions and you have to answer them within 4 hours.

It should offer a learning mode

The learning mode should allow you to take a small number of questions without the need of starting a full, 4-hour exam. Use the learning mode to go through 10 questions over lunch when you have half an hour of spare time.

Determine what support they offer

Consider both technical support as well as student support. Technical support will assist you in case you forget your password. Student support on the other hand will assist you in case you have a concern about a question in the simulator. What good is it, if you are stuck and there is nobody around to tell you why answer "A" is correct?

Does it offer a Free Trial

This is an important feature because how can you really make a good selection if you cannot "try before you buy"? We offer our very own Free PMP Exam Simulator -- give it a try!
How do Simulators Compare to PMP Real Exam Questions?
Student Success Story
The most surprising part to me was that the PM Exam Simulator questions were very close to the real exam questions - it really was GOOD PREPARATION.

Mary-Lynne Bratton, PMP
It is hard to say for several reasons:
First, every PMP candidate signs the PMI Certification Application/Renewal Agreement which states "...Furthermore, I agree not to discuss, debrief or disclose, in any manner, the specific content of PMI examination questions and answers, to any individual." This means that we may not compare simulator questions and "real" exam questions at a detailed level. We have to state any comparison in general terms.
Second, PMI constantly revises the certification exam. New questions are added and old questions are phased out. This is because our profession is in constant change, with new concepts being introduced and old ones no longer being used. The exam is a reflection of this and any comparison is only valid for a short time.
And lastly, every exam is different. So if you ask ten exam takers about their exam, then it is quite possible that five of them will tell you "I'm really happy that I studied Earned Value" and the other five will say "I wouldn't have needed to study Earned Value at all". This is because questions for each exam are randomly selected from a large pool of available questions. And so the questions student A sees and then compare to a simulator are completely different than those from student B.
Therefore, trying to compare exam simulators to the real exam is quite difficult. But many students still do it in order to help you and guide you.
Read Lessons Learned to find Opinions on Exam Simulators
Many successful exam takers publish their lessons learned to give feedback on their experience. Often they also talk about the study materials they used, including what simulator they had signed up for and how it compared to the real exam. So take some time to find and read recent lessons learned to be informed.
How Many PMP Sample Exam Questions Should I Answer?
We recommend that you answer at least 1,000 PMP sample questions before your exam.
Here are some ideas where to look for these questions. You can find them in...
Exam simulators
Free sample question websites
Exam study guides -- usually at the end of each chapter
Self-assessment questions in your online training course
Free exam prep email courses
Exam discussion forums
Facebook pages devoted to free questions
As you are scouring all of these resources for questions, don't forget the most important approach: You must simulate several complete 4-hour, 200-question exams in order to gauge your ability to finish the actual exam on time.
And also remember that not all sample questions are created equal. There are many free exam questions out there, but they may not be sufficient to prepare you. With the free questions you never know how many you are going to get and you can never be too sure if they are updated to the current exam specifications.
That is why we always recommend that you subscribe to a commercial exam simulator (#1 in our list above), so that you can practice using realistic, updated and tested exam questions.
What is the Best Way to Learn PMP Formulas?
Careful!
The PMBOK® Guide does not contain all mathematical formulas, acronyms and values that you must know for the exam. Consider purchasing a PMP Formula Guide.
The three most important words in real estate are location, location, location. And similarly, the three most important words when it comes to studying a PMP formula are practice, practice, practice.
This is because simply "knowing" a formula for your exam is not going to be enough. Many of the formulas required are actually quite valuable on most projects, and so PMI expects that you as an experienced project manager should be able to read a scenario and then be able to apply the correct formula to that scenario.
There are 49 PMP math formulas, about 30 acronyms and two dozen mathematical values that you need to know for the exam. It's obvious that only very few project managers have experience with all of these but they are required for the exam.
Furthermore, the PMBOK® Guide does not contain all the formulas that you will need for your exam -- so you are going to have to either invest your time into researching all the formulas you need, or you can go ahead and purchase a formula guide. And because purchasing is much more cost effective, here are some suggested criteria for your selection process:
Criteria to Help You Select A Guide for PMP Formulas:
Developed by a Trusted Education Provider.
Explains ALL the formulas needed
Describes not only the formula itself, but also explains how and when it is used and lists any variations
Describes how to interpret the formula result
Explains all mathematical acronyms needed
Explains all mathematical values needed
Includes one-page PMP formulas cheat sheet
Uses straightforward language to explain complex math concepts
Includes sample questions to practice what you have learned
How Many PMP Formula Questions Can I Expect?
Student Success Story
Please memorize page 61 of PMBOK® Guide, EVM, Communication Channel, EMV, Standard Deviation formulas and practice them as much as possible.

Mukesh Kumar Singh, PMP
This is difficult to say, because there is no hard rule for question types. Ask ten people who have taken the exam and five will say that they saw not a single formula based questions, but the other five will tell you that they were overjoyed they studied the formulas extensively.
So to be safe, you must study and practice all required formulas. And don't forget to include any troublesome formulas on your PMP dump so you can write them down on the scratch paper in the first few minutes after your exam has started.
Remember: Questions that need formulas are more than just about 'figuring out the median' or determining the expected monetary value. There are over 45 formulas you need to know and have practiced to pass the exam.
Understanding all the details of each formula will allow you to easily answer them -- just in case you are in the group of exam takers who really, really needed to know the formulas.
What is a PMP ITTO?
ITTO stands for "Inputs, Tools, Techniques and Outputs". This refers to one of the main concepts in the PMBOK® Guide, which describes each project management process by reviewing its ITTOs.
This diagram shows the ITTOs from the Direct and Manage Project Work process: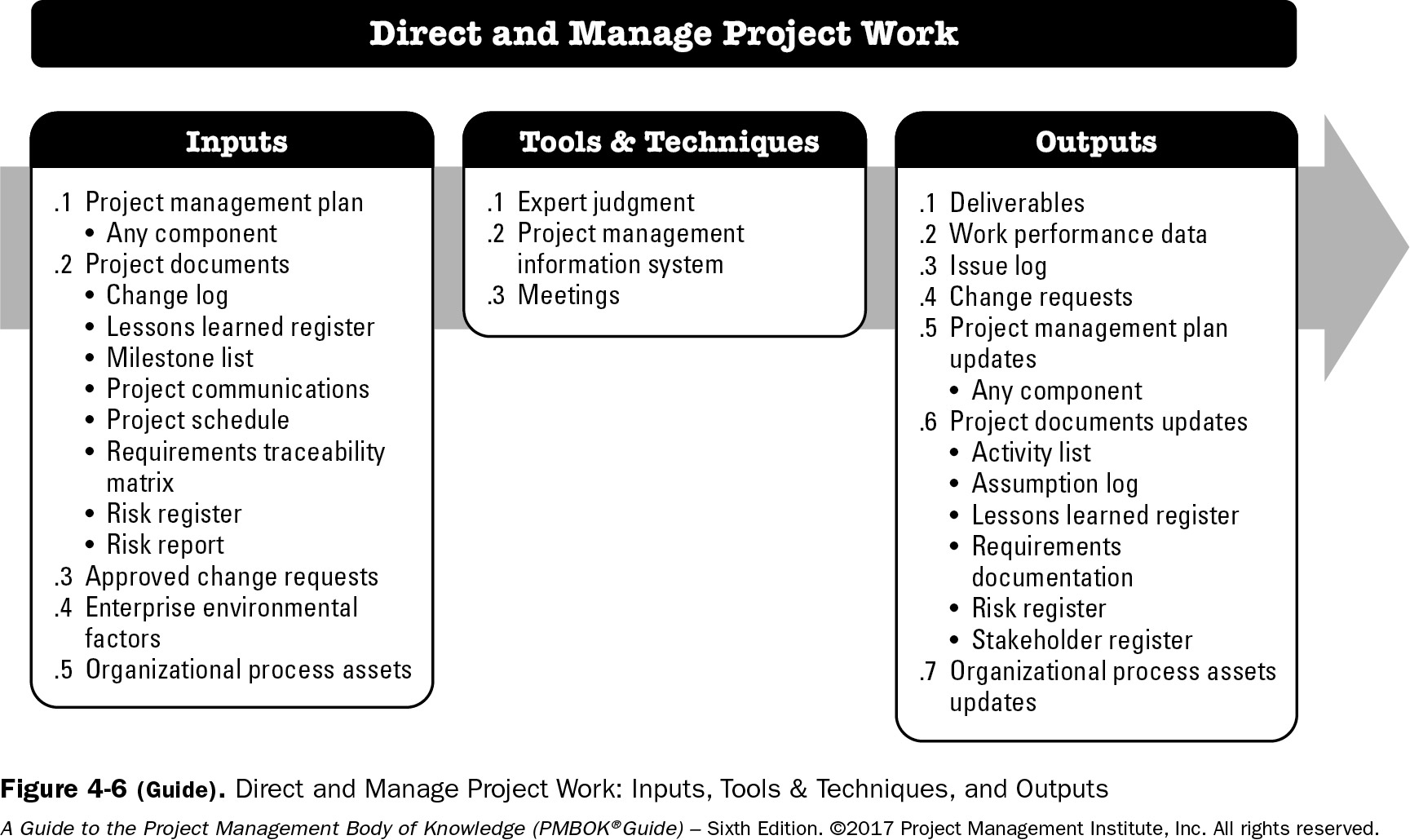 ITTOs are important for the exam because each of them is a concept that you must know, understand, have experience with and be able to put into context in order to correctly answer questions.
Do I Have to Memorize all PMP ITTOs to Pass the Exam?
No. The current PMP exam is all about an in-depth understanding of applying project management concepts and principles from the PMBOK® Guide as well as general project management knowledge from other sources to project situations.
Many project managers have successfully passed the PMP exam without any memorization.
What is the Best Way to Study and Remember the PMP ITTO?
As you are studying the ITTOs for your PMP Exam, keep the following concepts in mind:
Student Success Story
The PM PrepCast was spectacular! As repeated over and over, you do not need to memorize ITTOs, you just need to understand the concepts of each of the processes very well!

Christian Plesh, PMP
First of all, Inputs and Outputs are always "things", like a project management plan, a measurement, a result, an update to a plan, a document or a deliverable. You can touch Inputs and Outputs.
Second, it is very common that an Output from one process becomes an Input to another process. Focus your studies on understanding how these items flow through the many processes in the PMBOK® Guide in order to produce your project deliverables. Use the many charts that the Guide provides to see this graphically.
Third, Tools & Techniques very often have some form of "action" attached to them, like a meeting, a methodology, a technique, a form that you must fill in, or a matrix that you create.
And lastly, don't forget to read the complete PMBOK® Guide glossary. Study and understand the definitions of the roughly 350 terms that you find here. Again, you are not doing this for memorization sake, but instead you want to learn "the language" of the PMP exam. Often, we use project management terms loosely and interchangeably in our day to day work. But for the exam, we have to know exactly what each term means.
Reading the glossary ensures that you know the correct definitions, and, as a bonus, the glossary indicates for each term if it is an input/output, tool or technique.
So move beyond a third-grader's approach of fact memorization. Instead, study the big picture, the data flows and how the ITTOs are the glue between the processes.
What goes onto a PMP Brain Dump?
Before I answer that, let's begin by reviewing what a brain dump is and when you need it:
The Brain Dump Explained
Each exam taker is provided several blank sheets of paper to write down any notes or calculations for the exam. Most students typically don't fill all of those sheets with calculations and notes as they go through the exam.
In order to take full advantage of the available scratch paper, many students spend the first few minutes after the exam has officially started to write out their "brain dump" on one or more pages of paper. A brain dump is a technique where students create a personal mini reference page. On a closed book exam, such as the PMP exam, a brain dump serves as a memory jogger and provides the student a sense of security that they have a brain dump to refer to during the test.
A brain dump can contain whatever the student considers as relevant. Some people also call this the "PMP Formulas Cheat Sheet" because the formulas are often a central part of what they include in their dump. Other than the formulas, it can include abbreviations of components, graphs, key concepts, theories, and other content.
Here is a list of what many people add to their dump:
Table 1-4 of the PMBOK® Guide
Formulas that they find difficult to remember
Values for sigma and estimate ranges
Acronyms from the back of the PMBOK® Guide
List of the project manager soft skills
Types of conflict resolution
Quality statements like "quality is free"
Select ITTOs
Remember to only include those items that you personally have trouble remembering! Don't just blindly copy the list above or use someone else's dump. That can be a good start but you want to customize it to your needs. Don't study what others are having trouble remembering. Instead, include what gives you the hiccups.
Check out this video that explains how and why to create your own brain dump:
What is the PMP Study Time?
Tip
It takes 2-3 months to prepare for and pass the PMP Exam.
Just the other day I received an email that simply read "how long to study for pmp?". It is not an unusual question because this exam can indeed be a tricky one to crack.
And that is also what makes it hard to recommend a minimum time to allot to exam studies. Only you, the student, can really assess where you are currently at, and how much effort it will take for you to get "PMP ready".
A lot of factors like your past experience, your ability to take standardized tests, how well you can relate project management theory to situational exam questions, how quickly you grasp new concepts like earned value, and so on play a major role in the amount of time needed.
That much said, here is my general rule of thumb:
On average, it takes 8-12 weeks to study for the PMP exam.
You have to study 1-2 hours daily for 6 days per week.
Let me repeat that this is only a rule of thumb. Everyone is different and everyone has to assess their own situation. But as an average this works pretty well.
Having a solid PMP study plan (and following it!) is simply a must.
How do I manage the PMP Exam Time?
Careful!
You only have 1.2 minutes to answer each exam question. Practicing this pace before you enter the exam room is a critical success factor.
The PMP Exam time limit is four hours.
During these four hours have to answer 200 often very difficult, multiple-choice questions about situations in project management. It's stressful, demanding, you only have 72 seconds to select the correct answer and every wrong choice counts against you!
Here's how to respond to this situation constructively: Have a plan and practice the plan.
In this plan you must define the number of questions you answer per hour, when you take breaks, and what to do if time is running out. Here is what such a plan can look like:
Sample PMP Exam Time Management Plan
First 90 minutes

I will answer all easy questions and leave difficult ones for later. I will "mark" as few questions as possible.

Break

I will take a 10 minute break.

Next 60 minutes

I will answer the harder questions that I have left for later.

Break

I will take a 10 minute break.

Next 45 minutes

I will review, answer and "un-mark" all "marked" questions.

Final 25 minutes

I will go through all unanswered questions and hazard a guess if I have to. I will ensure that NO question remains unanswered.
Go ahead... Take the above sample as a basis and define your own time management plan. But then you also have to test if your plan actually works. You don't want to wait until you are in the exam room to learn that your approach doesn't work for you!
To practice your plan you are going to want to sign up for an online exam simulator that offers at least 5 complete exams. Now go ahead and take your first 4-hour long exam and see how well your plan does. Adjust accordingly. Repeat.
By having and practicing a plan you relieve exam pressure.
How do I Know That I'm Ready to Taking the PMP Exam?
Expert Advice
You are ready when YOU know that you are ready. Not when your sister says you are ready, not when your horoscope says this is a good week for exams and not when you 'heard' the exam is changing. Take the exam when YOU are ready.

Margaret Meloni, PMP
Only you can answer that question with finality, but Margaret Meloni wrote an excellent article titled The Best Time to Take the PMP Exam that may help guide you.
In summary, she says that you have to answer these questions:
Do you have the qualifying work experience that you need?
Have you submitted your application?
Have you studied?
Are you consistently scoring well on PMP practice exams?
When you miss practice exam questions, do you understand why?
Take the above into considerations as you set your exam date. If you have studied and you are doing well on your practice exams, it is time to take the exam.
If you push yourself to take the exam when you are not prepared for it, you are likely to have an unpleasant experience.
© 2015-2023 OSP International LLC. All rights reserved. This copyrighted article may not be reproduced without express written consent of OSP International LLC.