The Best Time to Take PMP® exam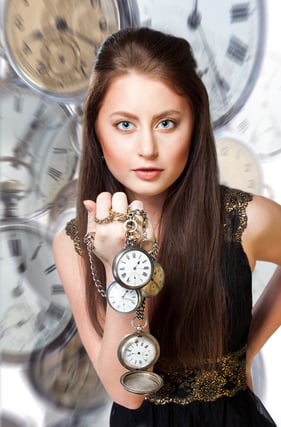 By Margaret Meloni, PMP
As you prepare for the Project Management Professional (PMP)® exam, one of your most important decisions will be when to actually take the exam. For many people the question of when is driven by these two additional questions:
How will I know that I am ready to take PMP® exam?
I heard that the exam changes on the full moon of the seventh month and it will be impossible to pass, should I take it before the seventh month?
You may think that question #2 seems pretty silly. You are right, it is silly. But what it represents is the amount of rumor and urban legend that surrounds the PMP® exam. Do not let rumors push you to take the exam when you are not prepared to take the exam.
Is there a real change to the PMP exam coming soon?
Sometimes the exam does change. Exam changes occur after a new edition of A Guide to the Project Management Body of Knowledge (PMBOK® Guide) is published or when the Project Management Institute (PMI)® reviews and updates the expectations surrounding the role of the project manager. The PMI® does a good job of communicating the timing and nature of exam changes. Should a pending change trigger you to hurry up and take the exam? Well, now we get back to question #1?
How will I know that I am ready to take PMP exam?
Do you have the qualifying work experience that you need, 4500 hours of project management experience if you have a BS or equivalent or 7500 hours with a GED or equivalent? If your answer is no, stop here. It is not time for you to take PMP exam. (You might consider the Certified Associate in Project Management (CAPM)®.) To find out how you can assess your eligibility, you can watch this video:

Have you submitted your application to take the PMP exam and has your application been approved? This is a predecessor to scheduling your PMP exam date.
Have you studied? This seems fairly obvious. You do need to study for the PMP® exam. Yet there are people who think that just because they are good project managers with experience that they can just waltz right into the testing center and pass the exam. You need to understand what the PMI wants you to know and the PMI really wants you to understand PMBOK® Guide.
Are you consistently scoring well on PMP practice exams? The PMI does not publish a minimum passing score for the exam. This makes it difficult to use your practice exam score as an exact predictor of your actual exam score. A rule of thumb is that your actual exam score may be from -10 to +10 points of your typical practice exam scores. You do not need to be consistently scoring 100% on your practice exams, but a range of from 80 – 85% is a good comfort zone.
When you miss practice exam questions, do you understand why? You do not want to simply memorize PMP exam questions and answers you want to understand what makes the correct answer the best answer.
Is it PMP exam time?
The above are valid considerations whether or not an exam change is imminent. If you have studied and you are doing well on your practice exams, it is time to take the exam. If an exam change is imminent you might consider pushing yourself to take the exam before the changes occur – if it makes sense to do so. For example, if you have invested a significant amount of time preparing for the exam using one edition of PMBOK® Guide and a new edition and updated exam are going to be released, of course you should push yourself to take the exam BEFORE the updates occur. You still want to schedule the exam feeling confident in your ability to pass the PMP exam.
If you push yourself to take the exam when you are not prepared for it, you are likely to have an unpleasant experience. Unpleasant could mean you experience undue amounts of stress and it could also mean that you do not pass the exam. Not everyone passes the exam on the first try. You do not want to look back and realize that you failed because you rushed to take the exam. That is an expensive lesson to learn.
When should YOU take the PMP exam?
When YOU know that you are ready. Not when your sister says you are ready, not when your horoscope says this is a good week for exams and not when you 'heard' the exam changing. Take the exam when YOU are ready.
---
About the author: As a teacher, speaker and coach; Margaret Meloni loves championing project managers. Her passion is to create project managers who successfully navigate the human side of the workplace. Please visit Margaret at www.MargaretMeloni.com.