PMP® Exam Questions - The Complete Guide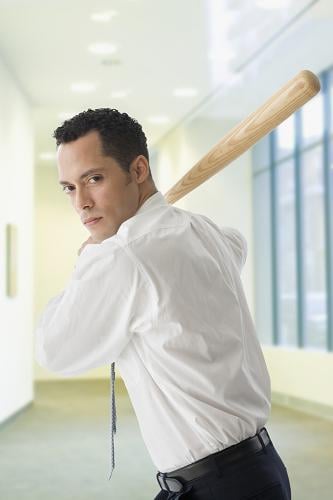 Practice makes perfect. If you were a baseball player, you don't want to be up at the bat only to strike out. You may practice against a teammate to improve your swing, but ultimately, there is no real substitute for playing a real game. When you play a competitive sport, after all your hard work in preparing and training, you want to win. It is the same with the Project Management Professional (PMP)® exam. A PMP® credential is an important one to advance in your career. On the day of the PMP® exam, when you are at the PMP exam center, you want to pass!
To ensure your success, you need to know the ins and outs of A Guide to the Project Management Body of Knowledge (PMBOK® Guide) and PMP exam content and take as many PMP practice exams as possible. In this article, I describe the most common types of PMP questions, provide you with sample PMP questions and give you links to where you can get more free PMP exam questions.
Read this article and find out more about how PMP sample questions can help you pass your PMP exam.
PMP Exam Question Format and Types
Tip
"How much practice do I need?" A good rule of thumb is that you should be able to repeatedly answer 85% or more sample questions in a full practice exam correctly on your first try.
The PMP exam is composed of 200 multiple-choice questions, which are distributed throughout the different project management domains of Initiating, Planning, Executing, Monitoring and Controlling and Closing. A student is allotted 4 hours to complete the exam. A student is scored based on only 175 of the PMP exam questions.
To prepare for the PMP exam, you should familiarize yourself with different the PMP exam question format and types. Each PMP Exam question contains 4 choices, of which there is only one correct or best answer.
In this article, I describe the most common types of PMP questions. These are the formula based, situational, knowledge-based and interpretational PMP exam questions. For each type, I also provide a sample question. For each sample PMP exam question, I include a hint, the correct question and an explanation. Note that on an actual PMP exam, there is no hint and (obviously!) no correct answer or explanation provided as you are taking the exam.
Therefore, I urge you to use this knowledge of the PMP exam question formats in order to be more proactive in your PMP exam preparation. When you study the PMBOK® Guide, ask yourself. "How can I be tested on this topic in the PMP exam?"
Formula-Based PMP Exam Questions
Tip
Earned Value Management (EVM or EV) is extremely important for the PMP Exam. You must know and be able to apply all EV formulas without fail.
Formula-based questions is not just about finding an average, solving for the median or calculating earned value. You must know around 49 PMP exam formulas backwards and forwards in order to pass the PMP Exam.
Understanding each element of the formula, provides you with critical decision making criteria to know which figures or information included in a PMP exam question should be included in the calculation. A good grasp of the formulas also may help you to more easily eliminate PMP exam question choices, which clearly cannot be the correct based on your understanding of the formulas.
Here is a sample PMP exam question with a formula for you:
There are 20 stakeholders on a project. What is the total number of potential communication channels in this project?

A. 10
B. 45
C. 190
D. 100

Correct Answer: C. 190

Explanation: The total number of communication channels can be calculated using the formula n(n – 1)/2, where n = number of stakeholders. So in this case the total number of communication channels is (20*19)/2 = 190.
There is really only one way to prepare yourself for formula-based questions on the exam: You have to study and practice all the formulas. And so you must know nearly fifty formulas, twenty important values and close to thirty formula-related acronyms. You have to be able to apply the formulas to a project scenario, and if I give you the result of a formula, then you must be able to interpret what that figure means for your project.
But here is the good news... Formula-based questions only have one correct answer. Those PMP exam questions that ask you to select "the best" action or "the next" action often have two or even three answers that seem possible. Not so with the formula questions. Once you know your formulas and understand how to correctly apply them in a given situation, then there is only one correct answer. Because 1 + 1 = 2. Period.
Situational PMP Exam Questions
Careful!
The PMP exam does not use formatting for critical words. So for example you will never see EXCEPT or except on the exam. It will always be written simply as except.
Situational questions test your ability to apply theoretical expertise to real-life project management situations. These questions tend to be very long winded. The idea behind this is that in real life, you are often provided both relevant and irrelevant information. Your task is to identify what is important, ignore what does not matter and then act upon the real issues. Be sure to read and accurately understand what is asked in a PMP exam question.
A single word can be critical, such as NOT or EXCEPT or ONLY or ALWAYS, which can change the meaning of the question or a choice.
Often, situational questions will have two choices, which after going through the question may appear to be reasonably correct. Therefore, it is vital that you identify what the question is asking. Based on the question and your knowledge of project management concepts, you must find the BEST answer.
Here is a situational sample question:
You have just been assigned as the project manager for an ongoing project in your company. You have discovered there is no Project Charter that describes the responsibilities and authorities of the project manager. When you talked to your project sponsor about the issue, he told you that nobody in the company even knows what a Project Charter is or what purpose it serves. He also told you that your company has executed numerous projects in the past without ever using a Project Charter. However, he asked you to prepare one just in case it is really a necessary project document. Where should you look for a Project Charter template to update in order to meet your project requirements?

A. Project Business Case
B. Enterprise Environmental Factors
C. Project Statement of Work
D. Organizational Process Assets

Correct Answer: B. Enterprise Environmental Factors

Explanation: Your organization has never created a Project Charter in the past, so you must find a Project Charter template to update in order to create a Project Charter for your project.

This is a tricky question. Usually templates for project documents are found in the Organizational Process Assets. However, since your company has never developed a Project Charter, you cannot find this template there. You can find templates for a Project Charter on websites and in commercial databases, which are included in Enterprise Environmental Factors.
A final tip on the situational PMP questions, try not to overthink the situation. A real life situation may have a multitude of factors and considerations that cannot be represented in a single exam question. Try not to think of too many "what if", "what about" scenarios or fixate that "this would never happen in the real world." Remember that the situational question aims to test how you apply the theoretical knowledge. Focus on answering the question with the given information and your project management knowledge.
Knowledge-Based PMP Exam Questions
Knowledge-based questions are usually based on the PMBOK® Guide or project management concepts. They could be based on your knowledge of the project management process groups and processes, on project management knowledge and skills, ITTOs or inputs, outputs, tools and techniques.
Do you know this?
During which phase of the project would you suggest using an integrated change control process?

A. Throughout the project
B. Initiation
C. Closure
D. Execution

Correct Answer: A. Throughout the project

Explanation: This process is performed throughout the project, from initiation through closure.
Watch this Video with a Knowledge-Based Sample PMP Exam Question
Click the image below to watch a video where we review a knowledge-based PMP question. It discusses the topic of cognitive bias. In the video you first see the question, then you have 30 seconds to find the correct answer, and then we reveal the solution and explain the correct answer:
Students both love and hate these knowledge based PMP exam questions. Some students like these questions because if you study the PMBOK® Guide well, you should be able to handle the majority of these knowledge-based questions easily. Students who lack preparation do not like this type of questions, since they can easily be confused by unfamiliar terminology.
You also have to watch out for the minority of questions that are not directly covered in the PMBOK® Guide.
Interpretational PMP Exam Questions
Interpretational questions test your ability to deduce a situation or condition from the description of a status or problem. So for example, in a PMP exam question, you may be provided a graph or performance metric, where you have to be able to determine if a good, bad or neutral/indifferent interpretation applies.
How would you interpret this sample question?
If your project has a CPI and a SPI both greater than 1, how well is your project performing?

A. Under planned cost and ahead of schedule
B. Under planned cost and behind schedule
C. Over planned cost and ahead of schedule
D. Over planned cost and behind schedule

Correct Answer: A. Under planned cost and ahead of schedule

Explanation: The Cost Performance Index (CPI) is a measure of cost efficiency. The percentage above a CPI of 1.0 shows how much costs are under the budgeted amount for the work accomplished.

The Schedule Performance Index (SPI) is a measure of schedule efficiency. . The percentage above a SPI of 1.0 shows how much schedule is under the budgeted amount for the work planned.

A CPI and SPI both greater than 1 shows that the project is under planned cost and ahead of schedule.
To prepare for interpretational questions, you must be actively thinking while studying the PMBOK® Guide. Ask yourself, "What would a positive vs. negative outcome look like?"
A good place to start is Table 7-1 Earned Value Calculations Summary Table on page 267 of the PMBOK® Guide. In addition to mastering the formula and how it is used, also focus on the last column "Interpretation of Results" as it will help you to answer the Interpretational PMP Exam questions.
Technique-based PMP Exam Questions
Tip
For the PMP Exam you must be able to manually work out questions on a network diagram, even though our software does it automatically for us these days.
According to the PMBOK® Guide, a technique is "a defined systematic procedure employed by a human resource to perform an activity to produce a product or result or deliver a service, and that may employ one or more tools."
Almost every project management process in the PMBOK® Guide has a corresponding PMP exam technique. Therefore, you will likely encounter a PMP exam question that tests your understanding of a specific technique. It may be knowledge-based where you can demonstrate your understanding of what a technique is used for. However, the PMP exam question can also test your understanding of how a technique is applied. For example, in the Project Schedule Management knowledge area, you should know how to read and interpret a network diagram. You may be asked to do a forward pass or backward pass to demonstrate your understanding of the critical path method.
Do you know this technique for your PMP Exam?
Sally has a status meeting scheduled with her project's sponsor. The project sponsor has asked Sally to report on the minimum project duration based on what is known so far. Below is the network diagram of the planned activities in Sally's project.

Which of the following durations should Sally report to the project sponsor?

A. 6 days
B. 10 days
C. 22 days
D. Cannot be determined

Correct Answer: C. 22 days

Explanation: In project management, a critical path is the sequence of activities, which add up to the longest overall duration, regardless if that longest duration has float or not. In this case, the path Start-D-E-F-G-Finish has the longest duration and is the critical path. Based on what is known so far, it is the minimum project duration. Therefore, Sally should report 22 days to the project sponsor.
Our best advice is to go through the Tools and Technique sections of the PMBOK® Guide and to understand each tool and technique, its purpose, and how it is used. Some tools and techniques are easier to grasp. For example, brainstorming is familiar and intuitive and most students probably have used this technique on their projects. However, understanding how to do a forward or backward pass through a network diagram, similar to the sample question above will require more study and attention.
My Top 10 Recommended Web Sites for Free PMP Exam Questions
I have done my own research on free PMP exam sample questions. I can tell you, that there are many free resources readily available that can help you get you started. I have narrowed it down to a list of 10 that I recommend.
The best websites for PMP Exam Sample Questions
---
You can see that apart from the link, I have tried to give you an idea of how many questions are available and key features of each website. You can see for yourself that the websites differ in terms of the number of questions that they offer as well the level of sophistication in presenting students the free PMP exam sample questions. Some providers list all the free PMP exam sample questions at once; others deliver only a question a day. You may receive an email with the PMP questions, or you may have to register to answer PMP exam sample questions in a PMP exam simulator environment.
The Next Step for PMP Certification Exam Prep
Find even more free resources and important information on how to prepare for the PMP exam on the free section of the PM PrepCast website. I encourage students to try to answer as many practice exams under real exam conditions. In other words, do not refer to your notes or the PMBOK® Guide, take a full exam within the time limit.
Learn More about PMP Exam Questions
Conclusion and Recommendation
Tip
If you get below average results on your exam simulator, then consider getting more training from The PM PrepCast with over 40 hours of audio and video lessons. For best ROI on your investment, choose the "Elite", which includes both The PM PrepCast and PM Exam Simulator.
As I said, practice makes perfect. Free PMP exam questions and knowing what type of questions to expect on the exam are great for starters. However, in order to better prepare to take your PMP exam, you want to practice your exam realistically. After all, you don't practice for your driving test in a bumper car. No. You drive a real car out on the streets to gain driving experience.
And so the best way to prepare for your PMP exam is to practice with a real PMP Exam Simulator.
By using a PMP Exam Simulator you will be better and better prepared for your exam: You learn what it feels like to take a complete, 200-question, 4-hour long exam. You get to apply your knowledge and experience to hundreds of simulated exam questions. And, if you answer a question incorrectly, you can research why you had it wrong and learn from the mistake. A simulator is a must-have.
Will any simulator do? Probably.
Most simulators that you will find in the current market are of a good quality. But of course, I am biased and I prefer my own PMP Exam Simulator. It offers 2,280+ high-quality questions with detailed explanations and references alongside every answer, so you can understand why your answer is or is not correct. But don't just believe me -- instead read PMP Exam Simulator Reviews from our former students. Remember you can always try the free version first. No strings attached.
© 2015-2021 OSP International LLC. All rights reserved. This copyrighted article may not be reproduced without express written consent of OSP International LLC.