Student Profile: Chandra Akkala, PMP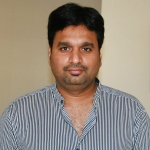 My name is Chandra Akkala and I've graduated in Mechanical Engineering from India. I started my career as a Production engineer in a Telecom Manufacturing Industry in India. I was lucky to move up the ladder within the same company, where I started as a Production Engineer and grew up to be a Product Manager. During the same time, I completed number of IT courses to broaden my Professional borders as I love challenges and swim through them.
In 2008, I moved to Poland and joined in an IT company. Currently, I'm working as a Project Manager in Warsaw.
I always think of endorsing my management skills and justifying my job position. And the PMP certification added that flavor to the professional vision in my life. After four months of dedicated preparation and passing this exam, I strongly recommend this certification, as it not only changed my career but also my personal life. This success made me more confident in decision making and in handling the most difficult and crucial tasks in life. Thanks to my wife, Swathi and our kids Nidhish and Medha for their great support.
The most difficult part of the PMP studies is to complete PMBOK. I would refer this is a standard book and recommend a few more supporting materials like PrepCast and Rita Mulcahy books. I followed Rita Mulcahy 7th edition and all PrepCast products. I bought almost all the PMP products and materials from PrepCast, PM study coach, PMP exam formula and PMP exam simulator. These products were very helpful to pass my PMP.
Thanks to Cornelius for his great efforts to come out with this product, but my suggestion would be to add more situational questions in the exam simulator.
I learnt about The PM PrepCast from my cousin Krishna, who had earlier used PrepCast for his PMP studies.
My #1 recommendation for PMP aspirants: The PMP certification and it's exam preparation is strongly recommended to all the professionals, as it teaches intensely to value your professional ethics and enhances the skills in problem solving, decision making and makes you a more proficient person in life. PM PrepCast products and Rita's book and the most important step in preparing for this exam is just practice, more practice and more practice!