Student Profile: Daniel Mayorga Gomez, PMP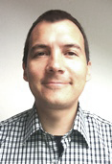 I have a Master degree in Management Information Systems, with 10+ years of professional experience in the IT industry. Originally from Colombia, but living in Bratislava, Slovakia since 2009. Happily married and with two children. I have been working at Hewlett-Packard for the last 3 years as IT Project Manager, on-boarding and implementing Asset Management solutions for EMEA customers.
I considered the PMP because I was looking for a prestigious and valuable certification in Project Management field. Driven force was mainly the need of 'self-development' and career advancements. Is a world-wide recognition with a framework to follow that definitely will help me with the projects I am leading at work. It is also one of the best professional certifications available and a prerequisite for most of the PM positions I have seen lately. So, I am very happy I passed on my first attempt with some 'Proficient' levels.
The most difficult part of the PMP studies, was to find the right time to do it! Family, friends and work these days just leave little free time a week to be able to study and concentrate. So, I needed to be disciplined and committed in order to cover all the knowledge areas and processes groups. However, just the application itself requires you to gather all your years of experience and demonstrate that you are in a good position or "eligible" for taking the PMP examination. I strongly agree that whole process is a single project itself.
I was preparing myself to get the 35 contact hours, reading articles and blogs on internet from here and there you know researching the topic, when I came across with couple of Cornelius videos posted on YouTube website describing how to get there with smart tips and tricks. So I decided learn more about him and his material and products. Then I found out The PM PrepCast has a sensible price comparing against those boot camps and other expensive techniques and products.
Personally I think The PM PrepCast is a good one and worthy the money invested, it has all what you need to tackle the PMBOK without falling asleep and with a friendly narrative experience. The best thing is if you don't get the concepts behind at first glance, you can replay the chapters on and on. Perhaps I would say that the interviews could be great to have them in video and not only audio, just to enhance the experience.
My #1 recommendation for those studying for the exam: PMP also stands for "Practice Make Perfect". Answer as many questions as possible, 2000+ or even more, try different sources and applications for iPhone or Android. Buy yourself an exam simulator in order to find out your weak knowledge areas that need improvements and focus on them, or they will find you on the exam! Have from 3 to 4 real test sessions as it is a marathon that your body and brain need to be well prepared to cope with it. Finally, review wrong and right answers including the ones you guess, perhaps next time you will guess differently.