Student Profile: Karthik Vivekanandan, PMP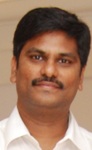 I am Karthikeyan Vivekanandhan and I hold an Bachelors degree in Engineering(Mechanical) and a Masters degree in Business Administration. I have  been  working with Hewlett Packard over the past 10 years. My professional competency includes Project Management, Test Management and Agile.

The changing business environment requires practicing project managers to have a formalized education/certification  on the time tested methodology of Project Management named PMP.