Student Profile: Karthik Vivekanandan, PMP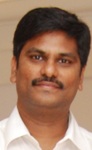 I am Karthikeyan Vivekanandhan and I hold an Bachelors degree in Engineering(Mechanical) and a Masters degree in Business Administration. I have  been  working with Hewlett Packard over the past 10 years. My professional competency includes Project Management, Test Management and Agile.

The changing business environment requires practicing project managers to have a formalized education/certification  on the time tested methodology of Project Management named PMP. In the current scenario where project managers need to do a balancing act between time, schedule and cost, a training in these areas in not an option but mandatory. In addition, organizations have understood the importance of the PMP certification and have started an aggressive drive to have certified PMP's in the key project/program/portfolio areas of the organization. The need for a prestigious certification and the benefits derived by possessing the same in the work environment prompted me to pursue my PMP certification.
 
There are varied challenges in the journey for attaining a PMP certification right from filling up the application till we see the " CONGRATULATIONS" message on the screen. But the most difficult part of the PMP preparation is reading the PMBOK. Though it is tough to read through those pages loaded with information, it is one essential step that no aspiring PMP should miss. My suggestion would be to read a chapter in PMBOK followed by reading the same chapter in one of the recommended PMP preparation books. I also constantly refer to the PM Prepcast for the various exam specific information available in this knowledge repository of PMP.

I came to know about PM PrepCast through one of my friend who had use this site for his exam preparation. Once I started browsing this site and found the wealth of information available in this portal, I changed my home page to PM PrepCast.

I also refer and attempt the questions posted by Mr. Fichtner on his Facebook page. They triggered/identified gaps regarding the concepts of Project Management which, I could have missed otherwise. 

The information available in the PM PrepCast is complete and I would recommend it for any aspiring PMP along with PMBOK, PMzilla and one of the recommended PMP preparation books.