Student Profile: Ketan Dani, PMP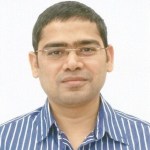 I am an Indian experienced IT consultant with 10+ years of experience including large scale SAP based business transformation projects/implementations, programs with multiple technology platforms & global implementation and IT Pre-sales. I've an MBA from XLRI, Jamshedpur: one of India's top management institutes . I am employed with Infosys Limited and have worked on several multi-national SAP engagements for Global companies like Procter&Gamble(USA), Nissan Motors(Europe), Air Liquide (Paris).
I think the PMP certification is one of the best Professional certifications available and also a globally renowned one. Also this has been closest to the role I'm currently performing. I am so happy that I got certified on my first attempt with the 'Proficient' level. I feel studying for PMP has even helped me also on my personal life, by helping me to clearly define goals and methods, and enhancing my decision-making skills. The exam has all the situation based questions and is very close to what challenges that you face as a Project Manager.
What was the most difficult part of your PMP studies? Completing the entire PMBOK!, I completed it only due to your recommendations and it helped:)
I learnt about The PM PrepCast from my friend Amitesh who earlier had earlier used Prepcast for his PMP studies. I think you should add more and more practice tests in the Podcast module.
What is your #1 recommendation for those studying for the exam?
Studying for PMP exam was a pleasant experience thanks to your PM PrepCast, Cornelius. The PMP Prepcast podcasts are the best things you've brought in. I enjoyed those during my daily commute to and from to office. Besides that reading Rita Mulcahy's book is a must. This book simplifies the reading experience a lot. Apart from these, I would recommend folks preparing for the exam to give as much as practice tests as possible online. Below are some of the links/blogs that helped me a lot in terms of preparation
http://ashraffouad.blogspot.com/2013/01/pmp-preparation-advices-exam-tips.html
http://passtheprojectexam.com/wp-content/Execution.swf
http://www.oliverlehmann.com/pmp-self-test/75-free-questions.htm  
www.ajithn.com
Thanks PrepCast again! I would be looking for PgMP prepcast from you guys...