Student Profile: Beakal Teshome Woldemariam, PMP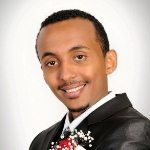 My name is Beakal Teshome Woldemariam. I have a BSc in Electrical and Computer Engineering and MSc in Systems Engineering. I currently work at Utilities Telecom Council as an IT Manager in Washington DC, United States of America. I always wanted to have a career that matters to the organization I work for. I have a big dream and I am sure I will succeed if I continue aiming high.
I always wanted to lead and build a great team at some point in my career. After I started executing my career path, Program and Project Management became one of the gateway certifications and knowledge to becoming a successful professional. That is when I considered the PMP certification.
The most difficult part of my PMP studies is going through PMBOK was not easy as it is just not fun to read. The book is meant to be a reference guide and not a book that communicates with an easy flow.
I learned about the The PM PrepCast from a friend of mine who used PM Prepcast to get her PMP.
What's missing from the PM PrepCast? An option to use the PrepCast on a regular computer (if it is not an option yet) as sometimes I like to study in my computer too.
It is easy and convenient to study for the exam by going through the book in terms of process group rather than knowledge area - that's my number 1 recommendation.