Student Profile: Caio Moldenhauer Peret, PMP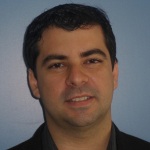 I live in São Paulo, Brazil, with my wife and daughter, and work as a Project Leader for a multinational company specialized in designing and building automotive Paint Shops. I've always had a very strong technical background, even with a PhD in Materials Science and Engineering, but my career led me towards a more generalist Engineering and Project Management position.

I have  always been pushed to a "specialist" position, which I didn't want. I like to work on the interfaces, negotiating, devising strategies, leading people towards a common goal. I saw the project manager profile as a very good complement to help me on this career movement. It complemented my lack of knowledge on some topics, helping me to understand how the work should be done and improving my leadership skills.