Student Profile: Todd Bauer, PMP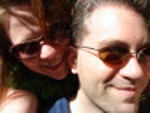 I am a 40-year old Project Manager and Business Analyst for Security MicroImaging.  We are a top-tier Hyland reseller and provider of ECM solutions.  I have been technical for many years and evolved into the Project Management sphere, eventually arriving at a point where experience wasn't enough and I needed a serious education and credentialing to move forward.

The PMP Certification was originally suggested by my supervisor.  I was not previously familiar with PMI.