Student Profile: Caio Moldenhauer Peret, PMP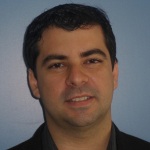 I live in São Paulo, Brazil, with my wife and daughter, and work as a Project Leader for a multinational company specialized in designing and building automotive Paint Shops. I've always had a very strong technical background, even with a PhD in Materials Science and Engineering, but my career led me towards a more generalist Engineering and Project Management position.

I have  always been pushed to a "specialist" position, which I didn't want. I like to work on the interfaces, negotiating, devising strategies, leading people towards a common goal. I saw the project manager profile as a very good complement to help me on this career movement. It complemented my lack of knowledge on some topics, helping me to understand how the work should be done and improving my leadership skills.
The PMP certification was a step forward, helping to consolidate the knowledge and to make this change visible to others.

To find the required time to study and balance it with all my other professional and family activities is the most difficult part of my PMP exam studied. This required a good deal of discipline and traffic jam (so I could listen to some of the classes)!

I've always listened to the episodes from the PM Podcast, also by Cornelius Fichtner. The choice for the PrepCast came naturally to me, after knowing Cornelius work and also by comparing the cost-benefit of other study methods. It is really a great idea to have a Videocast where the video is the support material for the speech. It helps consolidate the knowledge. Also, the possibility of using it as the 35 contact hours required by the PMI helped me to decide for it.

It is really hard to tell what's missing from The PM PrepCast. It really does well what it aims to do, to get through every concept that is on the PMBOK. Perhaps I would include more examples and real case studies of the application of the concepts in real world projects. To tell how can you use the same Body of Knowledge but different methodologies.

My tips to those studying for the PMP exams:
Take some time, 2  or 3 days before the exam, to re-read the whole PMBOK. It is not necessary to read word by word, but to have a quick look on all concepts. There are some details you can forget, and it refreshes your memory for the test. It saved me a whole bunch of right answers I would miss.