Student Profile: Touhami Ghilani, PMP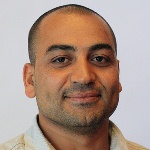 My Name is Touhami Ghilani, I had a master's degree in telecommunications from Paris-Nord University (called Sup Galilée) back in France in 2000, since then I have gained extensive technical skills in the telecommunications and information technology industries in Europe. After being a team leader in several projects. In 2005 I was interested in becoming a project manager, I get a position as technical project manager with eServGlobal (a company specialized in mobile payment solution and product development). in 2009 I get a position as project manager within France Telecom group, where I were responsible of implementing new prepaid systems and handling the migration projects in several affiliates (Orange): Sénégal, Botswana.

I got a PMP training in 2008, but I never had the time to prepare for the PMP exam, so when I relocate to California in 2013, I had some time for my personal development, so the first thing on my list was : get PMP certification.

The most part of my PMP studies is to study continuously every day and stick to the initial plan, even if sometime we cannot respect the plan. Especially when you have accomplish reading all the document and you feel to need to skim again these documents reading over all the documents might take an extra 10 days. So you need to be strong and be resilient !

My in-class PMP training was back in 2008, I felt the need to refresh my knowledge, so for this purpose I get my PMI membership and started reading the PMBOK. In parallel I enroll to the free question from PM PrepCast, those question prepared me and bring me the heat (temperature) of the real exam, since then I've decided to get the full package from PM PrepCast : Training + PMP Mock Exam which was good price compare to the quality provided in preparing all these materials.

If I have to pass the exam again I would go for practicing more on EVM subject, so I suggest that you develop 40 or 50 « exercises dedicated to EVM » it will help students to get the answers easily in the exam and save time, FYI, In the exam there is no direct question related to CV? CPI ? SPI? even if you know all the formulas, it won't help, you need to know how to use them especially in complex situation !
These gaps will find you in the exam and will take you more time, I remember I lost more than 10 minutes in 1 question, it was hard time for me, in middle of real exam 10 minutes it is like an eternity. tips: Think to mark such question for review.

My #1 recommendation for those studying for the exam is be organized, strong, and especially resilient, never give up, my recommendation is go to the exam only when you feel you are ready, I will say when all your mock exam are scored over 75 % at least 5 of them over this ratio. finally exercise and exercise at my knowledge there is no any alternative solution for that!
Last but not least: good luck for your PMP exam!