Student Profile: Joy Iyer, PMP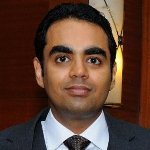 I am a Lead Engineer working in the Middle East in an Oil and Gas production company. I have been working in Oil and Gas offshore projects for over 12 years.
I had been contemplating attempting the PMP certification for quite some time, but was unable to do so due to my busy schedule.
I consider PMP certification important because I believe that although you can pick up the fundamentals of project management by working in projects and gaining experience and reading books, the PMP exam ensures that prospective candidates are required to go through the content of the PMBOK Guide, which in my opinion is a very structured approach to managing projects.

For instance, the PMBOK guide mentions the Scope Definition process which should be carried out towards the front end of a project. A number of projects which I know of have been initiated and executed without adequate scope definition and have suffered from inevitable doom.

Following the PMBOK Guide greatly increases the chances of a project being successful.

Achieving PMP Certification would demonstrate that you are aware of the processes, although it does not necessarily imply that you will follow these processes.

I believe that PMP Certification should be mandatory for any person working in a project management function, because it certifies a benchmark level of awareness about project management processes.
The most difficult part of my  PMP study experience was the fact that I allowed myself only about 7 weeks from first commencing PMP exam preparation to exam day. This was very challenging because I was also working full time.

In the end I ran out of time and was only able to attempt 8 out of the 9 simulator tests.
I was not too keen on attending classroom based training for the PMP and used Google to search for online training and contact hours certification. I stumbled upon the PM Prepcast which had a number of positive reviews and loved the podcast integration. I also loved the idea of accessing an online simulator.
I don't believe there is anything missing from The PM Prepcast, which is quite comprehensive.
I would strongly recommend candidates to give themselves a target of clearing the exam within 3 months of starting the PMP process. This is enough time to prepare, considering that you should already have some basic project management experience (so grasping concepts should not be too difficult) and gives enough time to take tests and go over the answers. At the same time anything over 3 months would allow you to relax and take it easy, I suspect one would really start taking the preparation seriously around the 3 month mark.