Student Profile: Talat Shaikh, PMP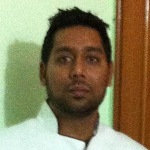 Hi there, I am Talat Shaikh, Software Project Manager by Profession with around 10 Years of experience in Software Design, Development and Operations Support, currently working in Charlotte USA,. I hold Bachelor of Engineering in Computers from Government College Of Engineering, Pune(C.O.E.P.), India. In my free time I like to play, watch and follow Cricket.
Industry wide recognition and value of Project Management Professional made me think about certification. And as I started learning about PMP, I got impressed and involved with the best practices and standard that is defined by PMI. Learning PMP materials helped me understand the gaps in my knowledge and adapt the right things. Overall PMP made me better Project Manager in terms of Project Management Processes and Knowledge Areas.
For me the most difficult part was to understand the formulas especially Earned Value Measurement Formulas under Cost Management and ITTO(Inputs, Outputs and Tools and Techniques). Also I had little difficulties in keeping all the theories in order like Moslow's Theory, McGergor's Theory, McClelland's Thoery, Herzberg's Theory etc but reading it few times helped me.
When I was searching on internet best way to learn PMBOK information and how to get 35 contact hours certification, then I read reviews about PM PrepCast. I subscribed to PM Prepcast website and was surprised to see the amount of information provided on each and every topic, right from filling up the Applications, what if you get audited to exam preparation and what to do on the day of exam and before the day of exam. I am really impressed with the sincere efforts put together by PM PrepCast Team.

Content-wise I do not think any thing is left behind. I believe PM PrepCast covers more information. I personally feel that a sample exam of say 25 questions after each topic will help us remember what we learned.
PMP is achievable as most of us have already earned it, it just need dedication, focus, sincerity and thrive to really earn PMP. It is absolutely doable but need efforts, memorization and practice. I would recommend, reading from PMBOK first, listen to PM Prepcasts, Refer Prep Book(like Rita's Prep Book) and Practice Exams in simulated environments to cast away anxiety.