Tag Team Your Studies with Other PMI-ACP® Aspirants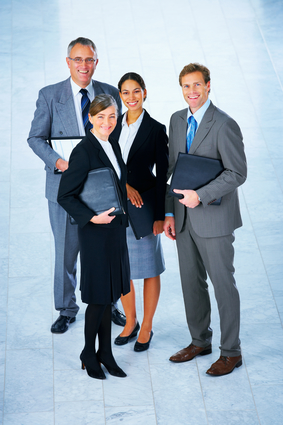 Preparing to sit for a difficult exam like the PMI Agile Certified Practitioner (PMI-ACP)® requires a great deal of individual planning, discipline and commitment. You are your most important resource in your journey to becoming PMI-ACP® certified. But regardless of how difficult the journey is you do not have to go it alone. There is nothing wrong with (and actually recommended) that you engage and collaborate with other PMI-ACP aspirants as part of your study plan. And based on recommendations from previous OSP International students, the benefits of doing this are plentiful. Following are some tips on how you can team up with others to help all of you achieve PMI-ACP® Exam success through collaborative 'tag team' study efforts.
Before we delve into the specific ways of collaborating with others as part of your PMI-ACP Exam study plan, let's first discuss some of the benefits of 'not going it alone'.
Collaborating with others studying for the PMI-ACP Exam breaks up the monotony of studying alone. It's nice being with others who can appreciate and share your pre-exam challenges.
Collaborative study also introduces both new and different perspectives and ideas. The synergy of shared experiences creates a deeper pool of knowledge from which you can draw during the exam.
Using collaboration tools and techniques for your studies can also help clarify any subject matter that you find unclear or confusing, as well as doing the same for those with whom you are collaborating.
Reviewing the PMI-ACP concepts necessary to understand for the exam with others can be a very effective learning technique, especially when you explain to each other how you understand the concepts.
You can also work together on practice questions and explain the reasons for your answers. Making a case for why you think the answer you choose is the "best' answer will help both you and those with whom you study to learn, and more importantly remember the concept.
But perhaps the greatest benefit of studying with others is that it forces you to study. If you truly are committed to your collaborators and attend your scheduled study sessions, you won't procrastinate, which is typically one of the biggest pitfalls faced while preparing to sit for the PMI-ACP exam. Your fellow students can be a source of support and encouragement and they will expect the same from you.
So what's the best method of collaboration to use as part of your PMI-ACP Exam prep study plan? That depends on you as an individual, your likes and dislikes, your time availability, and the most effective process for collaborating with others to learn the material, to name just a few factors. Following are some options that have been used successfully in the past by other PMI-ACP aspirants:
Study Buddy - This is you and a colleague. You might find a study buddy by asking around at work, by posting a request on your company's intranet, or by getting together with someone that attended the same PMI-ACP Exam Prep workshop as you. The advantage of a single study buddy is that it's much easier to coordinate only two schedules, and it's painfully obvious if one of you doesn't show up prepared. At the same time, it becomes critical that you be there for your buddy and vice-versa, so this type of collaboration probably requires the most commitment.
Local Study Group - This type of collaboration involves several people meeting regularly, face-to-face and locally. This is a great option if you prefer to meet face to face but don't have a specific study buddy in mind. You might post a request on your local Project Management Institute (PMI)® chapter's LinkedIn group or ask around at the local monthly PMI® chapter meeting. Another great place to find a local study group is meetup.com, which is a great resource to see where and when local PMI-ACP certification aspirants get together.
Online Study Group - This involves several students in various physical locations collaborating via virtual applications such as Skype or Google Hangouts/Groups. You can meet regularly and share your learning, and you also have the option to record these sessions if you miss one or want to go back to a previous session to revisit a conversation. An online study group works well if you have scheduling challenges or can't commit to a physical location. Some PMI local chapters host online study groups, and you may also find some information on other types of groups on the PMI® Global web site and on LinkedIn. Another source is local learning institutions that offer some type of Agile Project Management Degree or Certificate program.
So now that you know the benefits of collaborating with others as part of your study plan, and the different options available for implementing this collaboration, you may think you may have everything you need to be successful. However, simply setting up or joining a study group shouldn't be the last of your 'tag team' activities. Because your study sessions no longer involve just you, you need to set ground rules or 'working agreements' for your study group to agree to in order for it to be successful. Here are some tips that will help you get the most out of your study group:
Don't be afraid to speak up about topics or information that you don't understand because you are there to learn. Also, don't be afraid to speak up about topics or information that you do understand because everyone will benefit.
Make your plan and discussion assignments for the next session before adjourning the current session so that everyone knows what their responsibilities are for the next session.
Schedule a consistent meeting time, whether it's weekly, bi-weekly or monthly. Stick to this schedule and hold yourself and your other collaborators accountable.
Have a clear objective or goal for each session and at the end of each session decide what you will cover or review in the next session.
Make individual assignments for your sessions. For example, you might assign a different session leader for each meeting, or have one member each session read questions from a practice exam simulator and lead the conversation.
Share contact information, or better yet create an online space where the group can post questions or other information between collaborative study sessions.
Respect your group's (or buddy's) time by showing up on time and being prepared with all of your assignments completed and with any questions ready that you need to pose to your collaborators.
If you were planning to prepare for your PMI-ACP exam certification using self-study techniques exclusively, you may want to consider blending your approach. The road to PMI-ACP certification can be a long one, so why not bring someone else along for the ride! And remember that collaborating with others as part of your PMI-ACP Exam Prep study plan is not only about learning but also about teaching. After all, the best way to learn something is to teach it, wouldn't you agree?