5 Reasons to Attend a PMP® Exam Boot Camp to Pass Your Exam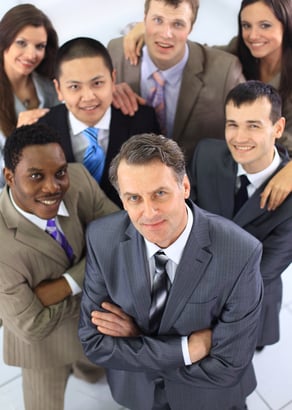 Please note: This article shows just one side of the story. If you want to get the full and balanced picture, read our article "5 Reasons NOT to take an Exam Boot Camp".
Talk to any project management trainer and you'll find that they have an opinion on the pros and cons of Project Management Professional (PMP)® boot camps. Some people love them, some people don't. Last time, we looked at five reasons why a PMP® exam boot camp may not be the right choice for you on your journey toward becoming a PMP. Today we'll be considering the reasons why you might want to choose this form of learning. Then, you can make your own decision about what sort of training is the most suitable for you.
Reason #1: PMP Exam prep Boot camps offer interaction
Spending a few days with like-minded people on a training course gives you the opportunity to interact with other students, and, of course, the instructor. If you work in a small company you might not have many opportunities to mix with other project managers, and sharing your experiences can be very valuable. You'll also likely find that they have similar challenges to you and that can be very reassuring!

Being able to interact with your trainers is also a benefit, especially if there are areas of A Guide to the Project Management Body of Knowledge (PMBOK® Guide) that you have not fully grasped before attending the course. The jargon in the PMBOK® Guide can be hard to interpret, and even experienced project managers can find it difficult to understand the concepts in the book. Having the opportunity to debate the jargon can help you confirm your understanding.
Reason #2: Intensive training provides self-confidence
The number 1 question I am always asked is: "How do I know if I am ready to take the PMP exam?" It is very difficult for any student preparing on their own to know when they are ready. And even if you take an online course, student-teacher interactions are limited or non-existent.

Intensive training courses give you the opportunity to discuss your readiness with the trainer. Having seen many students in exactly the same situation as you, they will be in a good place to advise you on your readiness to take the PMP exam. You can also compare yourself to the other students in the class, by listening to the types of questions they ask and evaluating your performance against theirs in any class exercises or discussions.

An in-person class also builds enthusiasm for the exam. Preparing for the PMP certificate can be intimidating for someone who hasn't taken an exam for many years. Studying in close contact with other motivated students will help build your own excitement and enthusiasm for getting professionally certified can help overcome that fear.

If you are looking for confidence in your abilities, a classroom-based course might give you what you need to feel comfortable booking your exam.
Reason #3: Classroom discussion adds real world context to your exam prep
The Project Management Institute (PMI)® has clear experience requirements for the PMP Exam: Applicants must have 4,500 hours of experience (or 7,500 if you don't have a bachelor's degree) before they can apply.

It's often difficult to work out how to apply your real world experience to the PMP exam multiple choice questions. How do you distill years of practical experience into a multiple-choice question and pick the right answer? The instructor – and the other people on the course – can help add context to what you already do day-to-day. This sort of discussion will help you understand the real world principles behind the PMP exam questions. After all, passing the exam is about much more than just getting the answers right: it's a sign that you understand the role of the project manager at work.
Reason #4: Trainers and standards are excellent
The market for intensive training courses is competitive, and training companies know they need to be excellent in order to stay in business. Students either leave a training course saying how great it was or how disappointed they were based on the quality of the content and the instructor. Guess which companies will get both repeat business and new customers?

Consequently, the curriculum for PMP exam courses is often outstanding, and the trainers are polished professionals as well. Those leading the courses have to be capable of helping students prepare for the exam, as well as advising those who are not yet ready. In those cases, some trainers will suggest what else the student needs to work on. Of course, each training company is different, so if you think that you might fall into the latter category, talk to the training provider before you book to find out what their policy is on advising students about taking the exam.

If you don't already know, ask who your instructor would be and then find out a little about them. Many training companies provide tutor biographies online. Generally, the more experienced the trainer, the more likely it is that he or she will be able to provide relevant examples and shed light on the ideas and techniques that you are learning.
Reason #5: Intensive prep courses are immersive
Self-paced learning requires a certain degree of self-discipline. Even though you know you should be spending your evenings reviewing the PMBOK® Guide or listening to project management exam prep podcasts while at the gym, some people find it hard to summon up the motivation to study consistently or stick to a training plan over a longer period of time.

Accelerated PMP exam prep courses give you the opportunity to immerse yourself in study for several days at a time – if you have the self-discipline to switch off your phone! Even if you do need to check in with the office every now and again, classroom courses provide a place away from many of our day-to-day distractions. Some training companies even run their courses from a hotel. This removes even more distractions, offers additional immersion and adds time to mix with the other students in the evenings, and, of course, spend your free time reviewing the concepts discussed during the day.

Immersing yourself in the PMBOK® Guide is an intensive learning experience and no class can turn you into an experienced, professional project manager in the space of just a few days. However, it can be an attractive option for people who find it difficult to commit time to study regularly over a period of a few months.
Is a PMP Exam Prep boot camp right for you?
Remember, if you are a junior project manager, then your first step on the journey to becoming a PMP is not a boot camp: concentrate on managing your first projects and gaining that all-important experience in order to meet PMP eligibility requirements. However, if you are an experienced project manager and meet all the pre-requisites, then consider a boot camp when you look at study options to help you prepare for the PMP exam.

There are many things to weigh when deciding what sort of training would best suit you. Think about the time you have to spend studying, your own personal motivations for taking the exam and those of your employer. Your budget is also a consideration, along with your own learning preferences and degree of self-discipline. In the end, you have to decide for yourself what sort of training is appropriate for you.

Finally, remember that a boot camp doesn't have to be the end of your PMP studies. Taking the exam the day after the training course finishes is not compulsory. You could use an intensive course as a springboard for self-guided learning as you consolidate the concepts over the following weeks. Even if you do take the PMP exam as soon as your class is over, it shouldn't be the end of your commitment to learning as a project manager. In fact, it's just the beginning.

Here's a short video about 3 Ways to Prepare for The PMP exam. PMP exam boot camp is included in this video. What's the other two? Watch it!