Take a PMP® Exam Prep Class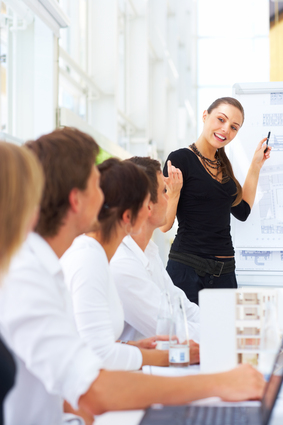 Classes that offer extensive and comprehensive coverage or the material required for the PMP exam should go onto your shortlist. The primary benefit of these sessions is that you can interact with the trainer (make sure that he/she is PMP certified) and with other project managers in the classroom studying alongside. This interaction ensures you get a firsthand experience of how to approach situations and the underlying principle that govern them.
The best courses are those that meet once a week over the course of a couple of months and allow you to do self-study in-between and really soak up the material over time.
Through this classroom-type learning, you are given a weekly "checkpoint" to see how much of the lessons are really learned and retained. This checkpoint is important because the PMP Exam tests your ability to apply the theory to real-life project management situations through varying scenarios in the exam questions. Many free tests are available online that you can use to assess if you are ready for the exam. But free tests only go so far, and you should consider subscribing to an online exam simulator that will test your knowledge and ability to pass the exam. These online exam simulators teach you the necessary time-management skills for this 4-hour exam. The detailed reports allow you to review your performance and learn the correct answers to questions you missed.
If you have not decided on which PM Exam course to get, begin with an internet search. Here you get to choose which one is best suited for you and start preparing for your certification exam. Though often expensive, an in-classroom PMP exam prep course is one of the best ways to prepare for the PMP Exam.
Check out this YouTube video for additional tip: