How to Find a Great PMP® Mock Exam Online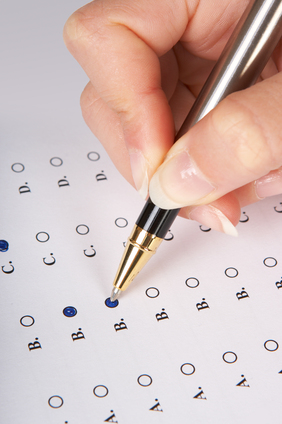 If you are working towards or just considering taking the Project Management Professional (PMP®) exam it is certain you have concerns about taking the exam itself. Concerns that can only be answered by practicing, or what types of questions are on the exam, or do I understand the material enough to pass, and can I answer 200 questions in four hours. You can discover the answers to these concerns and others like them through taking mock exams or answering mock online exam questions before you even register for an official exam date.
Online Mock PMP® Exams are the way to go if you want to see where you are knowledge wise, to find out if you can answer 200 questions in four hours, or if you just want to kick a case of the nerves. Therefore, this article explains what a mock exam is, how an online mock test helps you, where you would find such a test, and how good these tests can actually be. My goal is to give you the information you need to both locate a free online mock PMP test and how to identify a quality exam that will help you to be on your way to become a certified PMP.
What are PMP Mock Tests?
A mock test is one that is taken prior to the official exam for practice. A mock test can be taken to help you learn the types of questions that may be on an exam, to test your knowledge, or to simply practice taking the test.
Knowing what kinds of questions may be on the exam, that you can answer 200 questions in four hours, and that you can pass a mock exam can help settle your nerves for the official exam. There are several quality full-length online mock PMP tests on the market, but you don't always need a full-length exam to test your knowledge. There are also quality options for shorter mock practice tests and also single questions that can be used as part of your successful study plan.
How does a PMP Online Mock Test help me?
It helps, because it allows you to practice taking the PMP exam in the most realistic manner possible, which can be fundamental to you successfully passing the PMP exam.
A good full-length mock practice test will be very much like the official exam. It will consist of 200 questions, be limited to four hours, and will also have questions that are similar in difficulty, style and format as the official exam. It also covers the same topics. An online mock exam for the PMP exam is a good simulation of the actual exam process since the PMP exam is typically computerized. You should find a quiet location, block out four hours, log onto the mock test, and practice taking the exam in the most realistic way possible.
Shorter mock exams or single mock exam questions are also a good method for testing yourself. These questions will be similar in difficulty and in a similar format as the official exam and allow you to practice based on the time you have. If you have an hour or two maybe a shorter mock test is best for you. If you have ten minutes maybe a few practice questions are your best option. Many of the websites that offer single mock test questions offer a mobile option that can be used anywhere.
Where do I find a PMP Mock Exam Online Free?
Online mock tests that are both good and free are hard to come by. After all, you want to make sure you find quality free online practice exams and questions so your time is well spent.
The best one I know comes from Oliver Lehmann at www.oliverlehmann.com. Here you will find some of the most difficult questions around. Consider it a success if you can answer more than half correctly. This site offers questions in a variety of formats along with a free 90-minute, 75-question simulated exam. It is not a full-length exam, but it is definitely worth your time since it is so difficult. The website also has links to 4000 additional practice questions.
Another free online PMP mock test is the PM Exam Simulator located at http://free.pm-exam-simulator.com. This simulator provides several shorter exams and allows you to practice taking the PMP Exam in a manner that mimics the official exam. The questions are formatted using the same difficulty and style that are used for the actual exam. It also provides questions in the same process group proportions to best simulate the exam. It offers three modes to best fit your current learning needs: Learning Mode where you can receive hints and there is no time limit; Timed Mode where you can receive hints, but are held to the time limit; and Real Exam Mode where you can get the real PMP Exam experience.
The final recommended option for free mock PMP questions is at www.free-pm-exam-questions.com. Here you can sign up to have questions delivered directly to your inbox a well as the Weekly PMP Exam Tips Newsletter.
There are many good products on the market that may fit your needs. For some additional recommendations please read my article My Top Recommended Web Sites for Free PMP Exam Sample Questions. And in the interest of disclosure, the PM Exam Simulator and free PMP mock exam questions mailing list mentioned above are my own products.
How good can a PMP Mock Exam Free Actually be?
It depends! Sometimes you truly get what you pay for, but there are several, high-quality and free online PMP mock exams on the market.
One assumption that we can make is this: Free PMP mock exams provided by Trusted and Experienced Education Provider will likely be quite good. Especially, if this provider also offers their own online PMP simulator. The reason for this is simple: The free questions they provide are likely to be of high quality because they want to showcase these free questions in the hope that you sign up for their paid products.
How do I spot a GREAT Online PMP Mock EXAM?
Consider both the source and also the questions themselves:
As we have just seen, it is a good sign if the provider of the free questions is a PMI Registered Education Provider because it is in their own interest to give you excellent free materials.
Then you have to consider the questions themselves. Here you have to primarily ensure that they are updated to the most recent PMBOK® Guide and that they follow the latest exam specifications.
Questions with explanations that reference the Project Management Body of Knowledge (PMBOK® Guide) Fifth edition or other quality current project management reference materials are also a good sign of great PMP mock exam questions.
So if you would like to jump right into answering some great online PMP questions just go to www.free-pm-exam-questions.com to have questions delivered directly to you inbox or go to http://free.pm-exam-simulator.com to access a free exam PMP simulator.