7 Questions Students SHOULD Ask PMP® Coach for the PMP Exam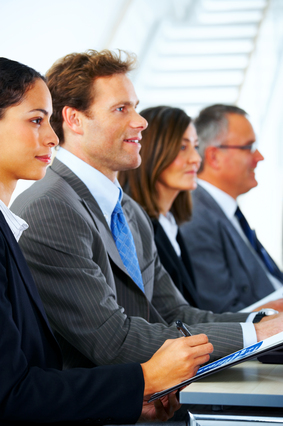 In our previous article we discussed the 7 questions that most of our Project Management Professional (PMP)® coaching students ask us as they start out their journey. However, over the years we have identified a second set of 7 questions - the questions students SHOULD be asking us but they don't. Here they are:
1. What's the most important PMP® brain dump or diagram to learn?
This is an easy question! It's Table 3-1 in the A Guide to the Project Management Body of Knowledge (PMBOK® Guide) - Fifth Edition. This covers the Project Management Process Group and Knowledge Area Mapping. It's a complicated matrix and a very important visual representation of Project Management Body of Knowledge and Project Management framework. It is very much a guiding tool for approaching the PMP exam and one of the most important brain dumps that you could have in the testing center to help you.
2. What PMP formulas do I need to know for the exam?
There are many PMP formulas in the PMBOK® Guide; upwards of 20 or 30 that could be referenced in the PMP exam. A PMP exam coach would tell you that you will probably only see somewhere in a range of around 15 formulas on the exam itself.
If time is short and you want to focus your learning on what will really make a difference to your success in the exam, identify the formulas that are most likely to come up and make sure you fully understand those. A formulas study guide, coach or PMP exam tutor will be able to pinpoint the most important formulas for you. Start by memorizing those to maximize your learning time.
3. What are these Inputs, Outputs, Tools and Techniques (ITTOs)?
ITTOs tend to scare a lot of PMP students and some exam candidates have confided that they didn't understand or know about them before they took the exam! They are very important for understanding how project management concepts and processes fit together, both for the exam and also for managing projects in 'real life' after the exam.
Make sure you spend enough time learning about their structure, and how you are likely to encounter them on the PMP exam. You can do this through studying the PMBOK® Guide, and using other study guides and flashcards. Taking practice PMP exams is another good way of testing your knowledge of ITTOs as you will get to see how the questions are framed on the exam and learn how best to respond to them.
4. What are some tricks to answering these long scenario-based PMP exam questions?
This is an excellent question that PMP exam coaches don't hear often enough! The best students want to know how to deal with the long paragraphs that they see on the PMP exam.
These long questions are often a source of great difficulty for many students. The content of the question is often in a strange order and there are facts that are added in simply to distract you. The answers are also often longer than normal, so scanning through and making a quick judgment about how to answer is tricky. So how can you deal with these scenario-based questions?
Something that works well for many exam candidates is to read the last part of the question first. You can also use a process of elimination on certain answers by referring to your brain dump of Table 3-1, the Project Management Process Group and Knowledge Area Mapping, or your formula sheet.
Practicing with an exam simulator and talking to your colleagues and coaches will help you understand and practice these long scenario-based questions.
5. How can I manage my PMP exam time?
Four hours seems like a very long time and in the past students were often able to complete the exam comfortably within this time. Now PMP exam tutors learn from their students that the test seems to be taking longer. You can still complete it within the 4 hour window allocated, but students are reporting that it is taking the full allocation of time so they don't have the opportunity to leave early.
This could be for any number of reasons, including that students are now better prepared and are marking more questions for review. It could also be that earned value calculations are playing a great part in the exam and for many students, they add additional time. Whatever the reasons, you do need to manage your time carefully on the day to ensure that you have enough time to finish without being rushed.
Once you get on top of your time management you have a much better chance of passing the PMP exam.
6. What's the best PMP study plan for learning all the content?
The best approach for learning all the content (and there is a lot of it!) depends on your learning style. Some people learn best by reading and absorbing information in their own time. This allows them to make notes and create their own flashcards, for example. If that sounds like you, a PMP study guide would be a good starting point.
Other people learn best through visual means, and if that sounds like your preferred learning style then the best approach that you could possibly take would be to find yourself a world class set of video learning lessons which will provide you with all of the content on all of the processes, the framework, and the body of knowledge in a visual way.
Others learn best in an environment with other people. A classroom course or PMP exam tutoring in a group can be a good solution if you prefer to learn in the company of others. Of course, you also have the option to learn one-on-one with a study buddy (a peer who is studying for the PMP exam at the same time as you), a mentor or PMP coach. Don't limit yourself to having to meet in person as there are online options that also give you the personal touch without physically having to be in the same location, such as coaching via Skype.
You may want to use a combined approach to suit your situation so mix and match your learning options until you feel comfortable that you have a study plan that meets your personal needs and preferences.
7. How many PMP practice exams should I take and what score should I score?
How many exams you take depends on how much time you have! It's more important to make sure that you have access to practice exams that provide you with questions that are known to be almost exactly like the ones on the real test. Try to find a source of questions that are highly regarded to be very realistic. When you get to a point where you are repeatedly doing simulated exams at scores of 80% or better you know you are ready go in and pass that exam.
Do you feel better prepared for your PMP exam knowing the answers to these questions? We hope so! As you can see, it's very difficult to give definitive answers in some cases as every student is different. The main message is to ensure you dovetail all of this advice together, making sure that you are studying in the right way, learning on the right timeline, taking the test questions right, and getting ready for the exam. Good luck!