The Secret Of Creating Your PMP® Brain Dump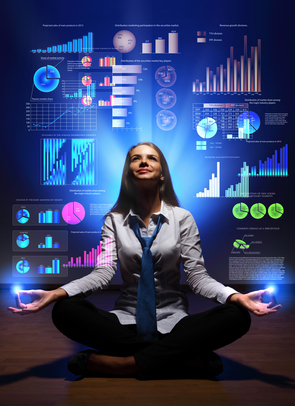 There's no better catalyst for self realization than taking the Project Management Professional (PMP)® exam. I'm kidding you, of course, but there is some truth in that the PMP exam day will illuminate that "you don't know what you don't know."
The PMP® Exam is a 'closed' book exam. That means the only reference material you are allowed to carry into the testing facility has to be contained in your brain. But during your exam, your brain is going to be very busy interpreting the PMP exam questions and trying to apply all of the knowledge, skills and principles you've accumulated in your studies and work experience.
If you haven't already, you should go for a visit to the local testing facility where you'll take your exam and confirm what to expect. Most likely, on your exam day, the exam monitor will check you into the testing facility, hand you six or so sheets of scratch paper and two pencils, then show you to your seat and confirm that your PC is working. Then you'll have about 15 minutes to go through a tutorial that really only takes about 5 minutes to do. Then you begin your exam.
During the test, recalling what you do know can be daunting. Quite frankly, some of your ability to access that knowledge is going to seem misplaced amongst your grey cells. So, how do you create the best opportunities to pass the PMP Exam that day? You do a PMP Brain Dump!
What is a PMP Brain Dump Sheet?
A Brain Dump is a technique used by many students on closed book exams to create their personal mini reference table. Brain dumps are abbreviations of components and concepts, which you have committed to memory and are then spilled out on to sheets of paper prior to the exam for reference.
Brain dumps contain just enough key concepts, theories, formulas and content, which will jog your memory. By having the information on your Brain Dump, your mind can focus on the question at hand instead of trying to remember the formula needed to answer the question. It helps you to be in the right frame of mind specific to each question.
As a general rule, experts recommend that these sheets should only contain the information that the learner is "concerned" about. Therefore, if you are a master in project procurement management then you should leave this section off your sheet. But you include the earned value formulas because you have trouble remembering them.
What goes into PMP Dumps?
PMP Dumps are only as good as the quality and quantity of information that you can spill out on the piece(s) of paper as you begin your PMP Exam. A good PMP dump contains the formulas, theory, concepts and PMP-isms that you might otherwise forget for a moment at the very moment when you need it most.
Here is what you can generally find as part of a PMP Exam Brain Dump:
Table 3-1 of the A Guide to the Project Management Body of Knowledge (PMBOK® Guide)
Formulas, such as earned value, PERT, communication channels, procurement, probability, project selection and depreciation
Values, such as 1, 2 and 3 sigma and estimate ranges
Acronyms, such as BAC or TCPI
Powers of a project manager
Conflict resolution (best to worst)
Sources of conflict (order of priority)
Herzberg's motivators
Project closing check list
And of course: you must include all the items that you personally have trouble remembering during your studies and that you feel need to go onto your sheet. The list above or using a Brain Dump that someone else created can be a good start but you really need to customize it to your needs. Don't study what others are having trouble remembering. Instead, include what gives you the hiccups.
Where can I find a PMP Cheat Sheet PDF?
Are you looking for some examples in the form of a PMP brain dump PDF? Then take a look at our "PMP Exam Prep Essentials" eBook. As part of this eBook you will also receive the Brain Dump Examples PDF. It contains a number of PMP cheat sheet examples. Here are a few sample pages:
So if it's a PMP brain dump sheet PDF that you want, then check out the PMP Exam Essentials Study Guide.
Another example can be found here.
How do I Study with a PMP Cheat Sheet?
These Brain Dumps or Cheat Sheets are pure memorization. As part of your exam preparation, exercises and studying, go ahead and practice committing the content of your Brain Dump to memory and then writing them out onto a blank sheet of paper on a daily basis.
Every morning, practice your brain dump until you're satisfied with your progress. By the end of the first week you should be able to write out your brain dump in its entirety on the first go.
Then continue dumping it on a regular basis, going back to the daily routine in the two weeks leading up to your exam.
So What IS The Secret of Creating My PMP Exam Brain Dump Sheet?
Creating and studying your very own, personalized PMP Exam Brain Dump Sheet is a means to an end in itself. It all begins with creating the content that goes into it by getting to know your weak areas as you prepare for the exam. Then you memorize, you dump and you repeat. Pretty soon what seemed too complex to remember is at the forefront of your knowledge.
So the secret is that you will accelerate your studies and knowledge simply by going through the motions of creating, studying and knowing what's on your personalized Brain Dump.
Review the details in this YouTube video that was the basis for the article you just read:
Last but not least, your PMP Exam Brain Dump is a great tool not only to help you bring your reference material into the testing facility, but also providing stress relief knowing it's there as you encounter questions that require it. You'll help yourself to learn the material as you study for your PMP Exam and give yourself an important edge in passing.