How To Avoid Seven Most Common PMP® Exam Mistakes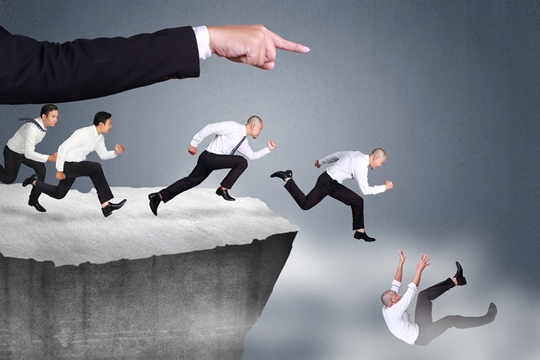 Planning for, taking, and passing the Project Management Professional (PMP®) exam can be a long and stressful journey. What better way is there to take a little stress off and help yourself prepare than to learn from those who have gone before you? Here we will look at seven of the most common mistakes identified by those who did not pass the PMP® the first time, but ultimately learned from that and made adjustments to pass on their second try. If you would also like to learn from their mistakes, keep reading.
Mistake 1 – Not planning an adequate path to PMP success
Believing you can walk in on exam day without studying just because you have been a project manager for years is not an adequate plan to PMP success. If you don't know where to start, go ahead and take a full-length exam without worrying about the time limit. From that first trial run you can identify your gaps in knowledge. Did you do really well on questions for one or more of the knowledge areas and poorly on a few others? If so then that is a hint on how to plan your path to success. You will learn what knowledge areas you are strong in and which you are not. From this information, you can develop your study plan.
Mistake 2 – Not having the "right" amount of confidence
The "right" amount of confidence can be difficult to achieve. Too much and you don't feel like you need to study and too little you may not believe you can pass the exam. If you have many years of project management experience and think the PMP exam will be easy because you have all of this experience, please ask yourself if your experience covers all ten of the current knowledge areas and all of the 49 processes within. If the answer is yes, then you have a great head start. If it is no, then you need to develop a plan to learn the knowledge areas and processes as defined in the A Guide to the Project Management Body of Knowledge (PMBOK® Guide). Having too little confidence can also be a roadblock to passing. If you have read the PMBOK® Guide a couple of times; understand the ITTOs and formulas; taken several quality, full-length practice exams and passed with an 80% or greater; and have utilized a learning tool such as The Project Management PrepCast, then chances are you are ready. Take a deep breath and tell yourself you can do this.
Mistake 3 – Relying solely on free questions to study
Free questions can be great and who wants to spend more than they already have? But sometimes you get what you pay for when it comes to free. Free questions may not do any more than tell you an answer was wrong. Many paid for questions and exams will provide you with an explanation for the correct answer. This allows you to learn from your mistakes and to understand the rationale behind the correct answer. The PMP Exam Simulator provides over 1,600 realistic exam sample questions and access for 90 days so you can practice full-length exams.
Mistake 4 – Not taking full-length practice exams
As you probably know the PMP exam is four hours in length and consists of 200 questions. Not to scare you - but looking at the math that is 1.2 minutes per question. If you are like many who are working towards their PMP certification it may have been some time since you have had to sit for a four-hour exam. Practicing taking full-length exams will benefit you in more than one way. One is to simply get you used to sitting for four hours and answering questions on a computer. Another is to help you to understand how to manage your time. During the PMP exam, if you do not know the answer to a question you can mark it and move on. When you have completed all of the answers, you can go back and answer those you had marked. By taking full-length practice exams, you will understand how it feels to take a four-hour exam and how to manage your time best while taking the exam and hence remove one of the common stressors about the exam.
Mistake 5 – Not fully understanding the ITTOs
Just memorizing the processes and their associated Inputs, Tools and Techniques, and Outputs (ITTOs) will not be enough to pass the PMP exam. Your actual PMP exam will have fewer than a handful of questions that have you identify the missing ITTO for a process, which memorization is good for. But, most of the questions will be scenario-based questions that require you to fully understand the ITTOs of a process and how they interact with other processes and their ITTOs. You will not be able to get by with just memorization, and not fully understanding the ITTOs will only lead to stress which will lead to taking longer on questions which will just lead to more stress. Plus, fully understanding the ITTOs will be beneficial to your project management career as a whole.
Mistake 6 – Not fully understanding the formulas
Formulas are a large part of project management as well as the PMP exam. For the PMP exam, you will need to know and understand some of the more commonly used formulas such as "cost variance" and "schedule variance" as well as some of the lesser known formulas such as the "to complete performance index". If remembering formulas is something you struggle with then as soon as you receive your blank sheet of paper at the test site complete a brain dump of the formulas. As you go through the exam, you can refer to your list and add to it as you need to.
Mistake 7 – Not properly preparing for exam day
Several ways some have not prepared well for exam day include:
Not knowing exactly where the exam site was located
Not giving themselves enough time to travel to the exam site
Not eating before the exam
Not planning for and practicing breaks
Knowing where your exam site is; how long it takes to travel to the site; eating before the exam; and planning for, practicing, and taking breaks during the exam are all little things you can do to help ensure your success on exam day.
A part of project management is gathering lessons learned to learn from both project successes and mistakes. Here we have seven important lessons learned from those who have failed the PMP exam on their first try only to learn from their mistakes and passed on the second try. Hopefully, you can learn from their mistakes, reduce your stress, and pass the PMP exam on your first try.