Which Project Documents Need A Change Request For Updates?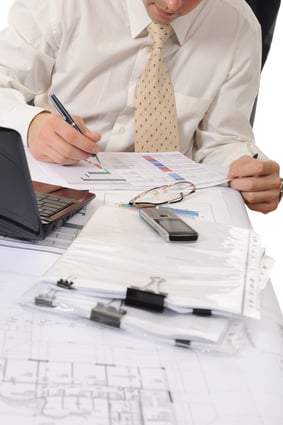 It is a question that we hear often from our PMP® exam prep students in the discussion forums. For example, Gunaseelan asked, "What all are the project documents which requires approved change requests to get updated?" Housam had a similar question. 
Let's face it: keeping on top of project management paperwork can be a big job. There are documents to create, get signed off and updated. And then there's finding the information again when you need to revise or use it… A project manager is never far away from a document!
What I want to focus on in this article is the process for updating documents and also include some tips for the Project Management Professional (PMP)® exam. A Guide to the Project Management Body of Knowledge (PMBOK® Guide) defines a change request as a formal proposal to modify any document, deliverable or baseline. But does that really mean that you need to do a change request every time you want to add a new risk to your risk log? That would be really time consuming and add a lot of extra administrative overhead to the job of updating project management documents.
In this article we'll dive into when you need a change request to update a project document and when you don't.
And unfortunately it isn't a totally straightforward answer!
What Change Requests Are For
Change requests are there to help you keep control of the document. They ensure that if an important project document is going to change, everyone knows what that change is and how it could affect other project assets.
For example, if you update your Resource Management Plan, that might have an implication for the project schedule or budget.
Change requests bring transparency to this process and also a degree of formality. This can help stop stakeholders asking for lots of little changes; the fact they know they have to go through a formal process might make them think twice!
What The PMBOK® Guide Says
So what does the PMBOK® Guide say about the documents that are subject to this process? Actually, not a great deal.
The PMBOK® Guide doesn't clarify the documents that require a change request, and equally it doesn't say which documents don't require one. It just says "any document" but if you have worked in projects you'll know that this isn't what happens in real life.
Change Requests Are Required For Controlled Documents
There is useful guidance in the PMBOK® Guide about the types of documents that we have on projects. This is split between "controlled" documents and everything else – the "non-controlled" documents.
Basically, the Project Management Plan (with all its subsidiary plans and baselines) is considered to be a controlled document, while all the rest are non-controlled documents.
That gives us a handy rule of thumb. If a change would require a modification to any of the Project Management Plan documents (controlled documents), then a formal change request should be issued.
This should be submitted to the Change Control Board (CCB) for consideration and possibly approval. However, if the change would only affect a non-controlled document, such as the issue log (for example, because you were updating it with a new issue), then no change request is required.
However, you will have to exercise your professional judgement. The milestone list, for example, is a project document that might not fall within your Project Management Plan. If a change to a milestone was approved, it would likely require the project schedule to be amended, which would most likely require a change to the schedule baseline, which is part of the Project Management Plan. The Project Management Plan is a controlled document, so that particular change would require a change request.
The trick is thinking through what needs to happen at every stage. While the first document that gets updated might be non-controlled, there is possibly an impact on another document that should also be taken into consideration.
What About The Project Charter?
The Project Charter is not a controlled document and it doesn't change very often. However, instead of editing the text within the document if you do need to modify it for any reason, you can add an addendum. This is a short section at the back that details the updates or changes within the document.
It's useful to keep this separate as it gives you the ability to see what has changed from the original Charter.
When You Don't Need A Change Request
Generally, you don't need a change request to update a document that is not considered "controlled", like the Project Charter.
There is also one situation when you don't need a change request to update your Project Management Plan. That's when the plan is still being developed. If your plan is not yet approved, you don't need to get a change request approved in order to modify any part of it. Phew! At this point in the project when you are putting the plan together it is likely to change often, so that's one less thing to worry about!
The act of getting your Project Management Plan approved is the first sign off for this document, which creates the baseline. Any future changes are effectively deviations from the original document that was approved, and they would need a change request so that the impact can be understood and acted on.
PMP® Exam Questions on Updating Documents
Questions about which documents need to be updated, and which would need a change request, could come up in your PMP Exam.
The correct answer will heavily depend on the question and the context in which the question is asked. Therefore, we always recommend that students make reasonable assumptions based on all the available information in the question. Then select the best answer from the choices given. It will not always be the ideal answer, but it should be the best option from those provided.
Remember to think about the implications of a change on a project. Frequently, if a change request is issued and approved, different types of project documents are likely to be updated. Think of how many times you can see that 'Project Documents Update' is one of the outputs from one of the processes – it's a lot!
Project management documents help to keep your project under control. Managing them, updating them and ensuring the right versions are available to the right people goes a long way to reducing the headaches on a project. Hopefully these tips will help you manage your documentation, whether a change request is required or not.