PMI® Code of Ethics and Professional Conduct for PMP®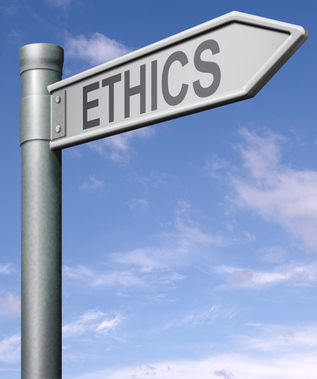 Don't steal, don't cheat, and don't lie.

This short sentence pretty much sums up the Project Management Institute (PMI)® Code of Ethics and Professional Conduct (the Code).

It describes the expectations that we have of ourselves and our fellow practitioners in the global project management community. It articulates the ideals to which we aspire as well as the behaviors that are mandatory in our professional and volunteer roles. The purpose of the Code is to instill confidence in the project management profession and to help an individual become a better practitioner.
The Code is not contained within the A Guide to the Project Management Body of Knowledge (PMBOK® Guide). Instead, it is part of the PMP® Credentials Handbook available here.

Just like the PMBOK® Guide, this is a "must read" for anyone studying to take the Project Management Professional (PMP)® or Certified Associate in Project Management (CAPM)® exam. Unlike the PMBOK® Guide, where memorization is necessary to pass the exam, you will not be asked to recite from the Code during the exam. Instead, expect several scenario-based questions where you have to show that you can apply the Code.

For example, "You have just arrived in London where you will spend three days with a vendor reviewing a proposal. The vendor calls you in your hotel room and invites you to dinner. What do you do?"
Four Core Values of Project Managers
Let's take a look into this important document. Upon creating the code, the PMI® found that there are four values project managers around the globe identified as being important: responsibility, respect, fairness, and honesty. These values have become the foundation of the Code and each of them is discussed at length in a separate section. For each of these values the Code lists aspirational and mandatory standards. The aspirational standards describe the conduct that we strive to uphold as practitioners. Although adherence to the aspirational standards is not easily measured, conducting ourselves in accordance with these is an expectation that we have of ourselves. The mandatory standards establish firm requirements, and in some cases, limit or prohibit practitioner behavior.
Disciplinary Measures for Project Managers
Practitioners who do not conduct themselves in accordance with these standards will be subject to disciplinary procedures before PMI's Ethics Review Committee. However, even though we have this distinction of aspirational and mandatory standards, consider everything in the Code as mandatory for the PMP exam. The code applies to you both as a PMP Aspirant and later on also as a PMP. First, as a PMP Aspirant, when you apply for the PMP Exam you will be asked to sign the PMP Candidate Agreement and Release form. In it you state that as a PMP Aspirant you will comply with the Code. This means, for instance, that you don't cheat on the PMP exam.

Once you pass the exam the code also applies to you as a PMP. Now you should exercise Responsibility and take ownership of the decisions you make or fail to make; show Respect to yourself, others, and the resources entrusted to you; apply Fairness when making decisions and act impartially and objectively; and finally, employ Honesty in both your communication and conduct. If we all manage to live up to these high standards from the Code we will improve the respect others have towards our profession as well as enrich today's business world.
Applying honesty to your work
Here are two more examples of applying the value of Honesty to your work: First, as a project manager, you may be working on-site for your client and you may have access to proprietary and copyrighted material or information. The confidentiality of intellectual property that you have access to must be maintained. And second, let's look at status reports or press releases that you provide. The information that you as a PMP provide in these documents must be accurate and truthful regardless how difficult it may be to define the word "truth."
Stick to the code
Applying the Code in your daily dealings with work colleagues and your colleagues in the professional organizations will also set you apart. The PMI Code of Ethics and Professional Conduct can assist you in making wise decisions, especially when you are faced with difficult situations when you might be asked to compromise your integrity and values. Sticking to the Code will show others that you are an upstanding, ethical project manager.
To take this a step further - if your colleagues know this is how you operate, this will become a valuable part of your reputation. Being honest and ethical makes finding a new job much easier than if you had the reputation of stealing, backstabbing, and lying.
Caribbean Cruise or not?
Let's go back to that dinner invitation example from earlier. Would you accept or would you decline? I would accept because going out to dinner with a vendor or partner is normal social behavior and will not jeopardize your objectivity on the project. However, if the vendor offers a free Caribbean cruise to you then you should decline and notify your superiors.
The PMP Exam
Next to the PMBOK® Guide, the PMI Code of Ethics and Professional Conduct is one of the more important documents covered on the exam. This is why we have a whole episode of the PM PrepCast dedicated to explaining the Code to you. We give you real life examples of how it applies to your work on a project and what you should do in a given situation.
Watch a free video lesson of The PM PrepCast here - The PMP Exam Overview: