Online Kanban Tools: A Buyer's Guide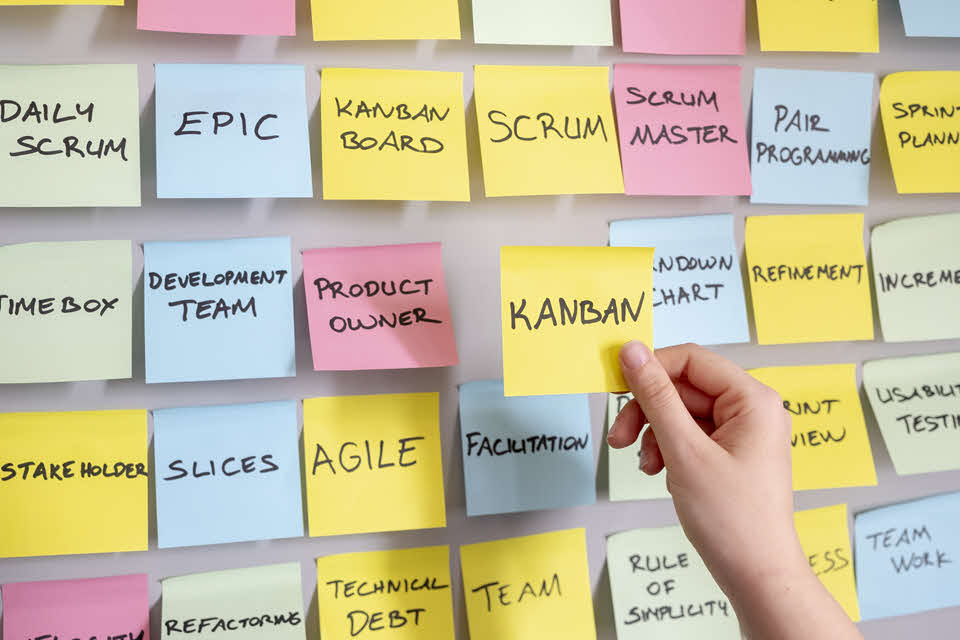 Efficient project management is the key to running a successful company, and using the most appropriate workflow app or the best Kanban tool will help you do it right. Kanban is a popular project management approach, but what exactly is it? This article will explain the Kanban philosophy and how to find the best Kanban project management tools for your team. We also share some inexpensive or free Trello alternatives that you can use to execute plans, projects, and strategies.
But first, let's get some clarity on what Kanban is and how it can help you manage your projects.
What is Kanban?
Kanban is a project and work management method that helps teams focus on what's important by making it easy to prioritize work.
The fundamentals of Agile project management with Kanban are:
Visualizing the workflow via a Kanban board (more on those later)
Limiting work in progress: Boards typically enable tasks to be categorized as To Do, In Progress or Done, so the amount of work in progress can easily be seen and managed, which helps teams focus on completing work
Measuring lead time - in other words, how long it takes to complete a task after it has started
Seeking out continuous improvements: In common with other Agile approaches, Kanban allows for continuous evolution so teams get better and faster at delivery.
Kanban is covered in detail in Module 2 of the Agile PrepCast so if you're studying for the PMI-ACP® exam, we've got you covered!
Who Invented Kanban?
Taiichi Ohno, an industrial engineer at Japanese firm Toyota, is considered to be the father of the Kanban system as we know it now. The system was designed to improve manufacturing efficiency at the car manufacturer in the 1950's.
The Japanese word 'Kanban' means signboard or billboard in English. It's a scheduling system that came from Toyota's lean approach to manufacturing and just-in-time production.
Today, the Kanban philosophy is used as a way of managing project work in some Agile teams. Many project teams have moved from offline Kanban boards to desktop or mobile Kanban apps.
Why Should You Use Kanban in Project Management?
There are plenty of different ways to approach managing a project. Why would you choose to use Kanban?
Here are some pros and cons of the Kanban approach.
Pros
Cons

Helps you understand how time is spent
Focus on continuous delivery
Very simple and flexible
Reduction in time wasted
Increased visibility about the work to do
Team can self-select tasks

Might be difficult to adjust to online tools if team has previously used a physical board
Might need to help the team focus on tasks that no one wants to volunteer to do
Not suited to complex environments or those with hard deadlines
Less effective where the resource pool is shared
The Importance of Kanban Boards in Project Management
When you're looking for the best Kanban project management tool, how easy it is to manage your boards will be a key criterion. So let's take a moment to review what Kanban boards are and how they can be used.
Elements of a Kanban Board
The Kanban board lets you organize your work on cards. Each card represents a task.
You can add work-in-progress limits (how many tasks an individual or team can work on at any time), swimlanes to organize the work, sub-columns and more.
Typically, a Kanban board will have "To Do", "In progress" and "Done" column categories. Tasks fit into each column on the board — these are the cards.
Depending on your Kanban tool, you can add checklists to tasks, add attachments, allocate work to an individual and track time spent on the task.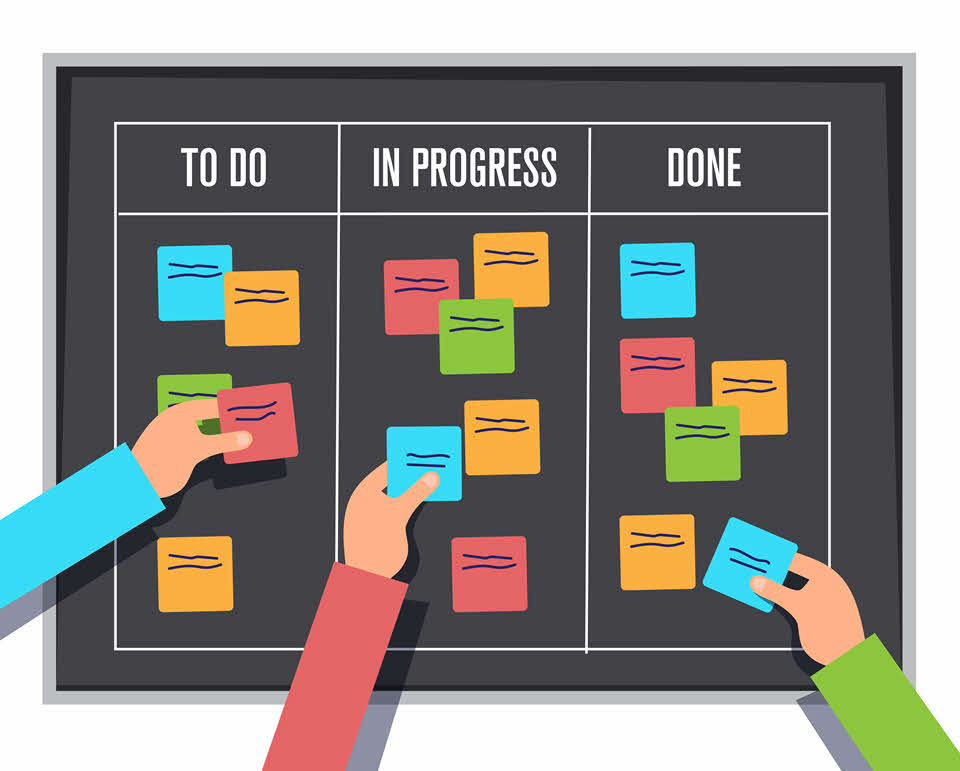 Not all project management software has an option to display work on a Kanban board, but many do. You could check out your existing project management tools and see if you have a Kanban view available already.
The importance and benefits of Kanban as a project management approach is a possible exam topic for the PMI-ACP® exam, so check out the PMI-ACP® Exam Simulator to help you fully prepare for any questions you might get about Kanban.
Choosing the Best Kanban Tool for Your Team
So you're ready to choose a Kanban tool for your project team. There are plenty of software products to choose from. While they all have common features of boards and cards based on the Kanban approach, they will all also differ slightly from each other.
Even if you aren't responsible for choosing the Kanban tool for your team, many project managers are asked to get involved in product evaluation. When the time comes to choose a management tool, familiarize yourself with the requirements so you can help the team make the best choice.
The first step is to consider the criteria to use for choosing a digital Kanban board. Make a list of "must-have" features that are important to your team.
Here are some Kanban software features that you may want to include as part of your selection criteria.
Kanban Boards
How is the work represented on the board? Given that the board is the first thing your team will see every day, it needs to help people visualize the work.
If you have a whiteboard in use at the moment, how easy is it to replicate that in the tool? And if you don't want to replicate what you currently have, how intuitive is the online tool?
Kanban is a very visual way of working. Look for features like visual cues that tell you if you have a notification, or if a task is running late. Ideally, the whole tool should be intuitive to use with very little learning curve.
Another key feature to look for in how the boards are set up is whether you can limit work-in-progress. Check how easy it is to set up limits and where the limits apply.
Kanban Cards
What do the Kanban cards look like? You may want to assign tasks, create checklists, add attachments, and link tasks. Task hierarchy might be important to you to help define cards within cards.
Template cards can also be useful, as is the option to show cards in different views.
Analytics and Reports
Look for features that allow you to create and share reports from within the tool. What metrics would you want to monitor regularly, and will the product let you do that?
Anything that makes it easy to check project status and report visually is good, and if reporting can be automated, that's even better!
Automation and Integrations
Your workplace is individual, and you may want to create specific custom workflows to suit your project environment. You may need a tool that can do this for you, or you may be able to work with integrations like Zapier or IFTTT to create the perfect workflow. Look at what your current project management or development tools will integrate with, and make sure to select a Kanban tool that has the relevant connectors where you can.
Remember that if you need to integrate with other tools, that adds another level of complexity and set up to your Kanban system.
Mobile Options
The best online project management tools have mobile options. If your team is out and about, a mobile app is going to be a necessity. Sometimes, features can vary between Android and iOS Kanban apps, so during your free trial period, download and connect the app so you can check out exactly what options are on offer for your team when they are working away from their desks.
Cost
A factor that you can't overlook is the cost of any new software product. What is the cost to get started? Look for a free trial so you can check it out properly before investing in the software.
Investigate how many boards and team members you can have within each pricing tier, and assess whether that will be adequate for your use. If one board is equal to one project, you might find your need for boards quickly spiralling upwards!
Security
Your IT team will want to reassure themselves that your sensitive project data is kept securely. They might already have protocols for reviewing cloud-based software tools before they are used in the enterprise.
If not, do your own checks. Look to see if encryption is supported and whether you could have an on-premise installation instead if that would be preferable.
Support
Many tools have online chat providing help, as well as knowledge repositories and YouTube videos explaining key features.
Find out when live support is available and how you would access that. Enterprise customers often have access to different (more comprehensive) support options to individual purchasers, so the number of seats you buy may change what support options are available to you. If trouble-free access is important, it might be worth upgrading to a premium plan just to get a better level of support and some hand-holding during your onboarding process.
Other Features
Also look out for what extras you can find in the tools that might make your life a little easier. For example, can you customize boards with colors and icons? Can you add widgets and time tracking, or flags that show how long a card has been on the board? Do you need notifications, or the ability to share boards with a third party?
Think about the nice to have extras that could push one tool to the top of the list.
Popular Kanban Tools to Improve Your Project Workflow
As we've said, there are lots of tools out there. Make a shortlist of tools that look like they might be good enough for your needs. Then take your list of selection criteria and assess each product against what your team rates as important.
To get you started, here's our list of popular Kanban software. While these are all perfect for work use, many have free plans for individuals, so you can check them out. You never know, one of these might be the best personal Kanban app for you, and you convert your personal To Do list to a free online Kanban board!
Kanbanize – https://kanbanize.com/
Kanbanize is pure Kanban software that allows you to limit work in progress. It comes with built-in forecasting and a business rules engine for customized workflows.
Clarizen Go – https://www.clarizen.com/
Clarizen Go, from the people behind the highly popular Clarizen family of project management tools, provides highly personalizable workflows. It has the goal of making project management visual and improving team performance.
Paymo – https://www.paymoapp.com/
Paymo offers a full set of tools that help teams and individuals reduce stress levels while working, create better plans and schedules, and overcome uncertainty. It's aimed at consultancies and client-facing organizations but also has a user base from the education sector.
ProjectManager.com – https://www.projectmanager.com/
ProjectManager.com offers you a Kanban view to manage projects, enabling teams to work on both predictive and iterative projects from within the same tool.
Monday.com – https://monday.com/
Monday.com comes with templates so you don't have to start your project planning from scratch. It has a very fast learning curve so it's easy for your team to get started.
GitScrum – https://site.gitscrum.com/
GitScrum is Kanban for Scrum teams, so if your method of choice is Scrumban this could be the perfect tool for you. It comes with the option to whitelabel the product, so it's perfect if you are sharing boards with clients and customers.
MeisterTask – https://www.meistertask.com/
MeisterTask has Kanban-style boards and a host of other features like checklists, recurring tasks and time tracking.
Trello – https://trello.com/
Trello is popular with creative entrepreneurs but also has a corporate following. As one of the Atlassian products, it has mobile apps to help your team stay on top of their tasks while on the go.
Breeze – https://www.breeze.pm/
Breeze is a simple take on Kanban planning making it easy to use. It comes with reports and just enough features to manage the work. It integrates with other collaboration and productivity tools like Slack and Toggl to extend the feature set.
Cardsmith – https://cardsmith.co/
Inspired by the 'sticky notes on a whiteboard' school of planning, Cardsmith is very flexible and allows you to design boards and cards the way you want. Helpful for brainstorming and turning ideas into action, boards can be shared with clients and suppliers.
There are lots of tools to choose from. However, tools alone can never beat good strategy and collaboration between colleagues!
Learn how to get Agile projects done with the Agile PrepCast.
© 2019 OSP International LLC. All rights reserved. This copyrighted article may not be reproduced without the express written consent of OSP International LLC.