Student Profile: Ram Lal Pareek, BE, PMP, MBA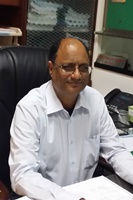 I am a civil engineering graduate and did my graduation in 1989 from University of Jodhpur, India.
Currently working in Dubai as a capacity of General Manager in Chirag contacting Dubai dealing with all kinds of construction in Dubai since 1996.
I did my MBA in project management in 2014 from Bhartiyar university along with PMP.
During my preparation for PMP manage to get certified in HR professional, Risk Management as well as strong contract management including greenbelt certification in quality from IQF, USA.
The first thing I study three time PMBOK. First two times to understand the concept and last to understand integration that was main key factor to pass PMP exam.
Rather to go so many question , I exercised only quality question to understand integration and intensified to understand the concept of each and every knowledge area .
The last minute I went through my personal notes prepared by me only for the areas where there was gaps in my knowledge areas as well as most important to read glossary from PMBOK. It is mist important to Answer not of direct question.