Student Profile: Sheba Daniel, PMP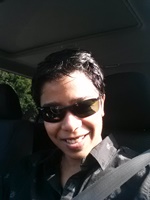 I am an IT professional with 10+ years of experience playing various roles in the SDLC process. I finally decided to get my professional certification so I can show myself more than anyone else where I stand in this competitive field and plan my future endeavors accordingly. Clearing PMP gave me the reassurance and the additional clarity I needed to set my future career goals. I plan to actively engage in PMI efforts and keep myself well informed about the best practices of this industry so I deliver as well as mentor and train other candidates.
I read a lot of success stories to motivate me enough to start the process. PMP needs time and dedcated effort and it's something that professionals do not have in excess. When you come home after a long day at work, the last thing anyone would want to do is study. Once I got myself started I partnered with my best friend (Naureen Rehman, another of your successful students) to buddy me in the process. Having a buddy helped both of us motivate each other everytime one of us got overwhelmed. It is important to stay focused all the way through.
I had to move my exam date up by a few days so I did not have enough time to space the practice tests as much as I wanted to. However, I made sure I stopped studying the night prior to my exam but saved my formulae sheet for my last minute review.