Student Profile: Jyothi Hotti, PMP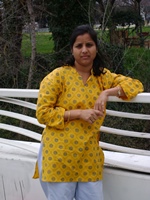 I have been working in IT industry for the last 15yrs and from last 2yrs started as PM.
The first thing that I studied on my journey to become a PMP was Rita's PMP book. It has good day-to-day examples which I can connect and remember. I also read a lot of exercises at the end of each chapter help us understand better any situation.
I had last minute review on the day of my PMP exam when one page dump of all process and important formulas to review. http://cfs2.simplicdn.net/images/content/drip_marketing/docs/drip_doc_PMP_Ebook_535e574ddcf5d.pdf ( very good one page dump for all chapters).