Student Profile: Absy KRDEY, PMP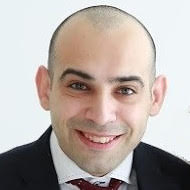 My name is Absy KRDEY, 34-year-old, Married and have two kids. I am originally from Syria, Aleppo, and I have been in Tokyo, Japan for 11 years. I graduated from Tokyo University with a Master degree in Mechanical Engineering, and currently, I work for Emerson Valves and Controls Japan. We are mainly focused on oil & gas projects. I have been working in this Industry for over 4 years now. I started as an application Engineer and came to be a project manager. For me, the PMP certificate journey was a unique and priceless experience.
I passed the exam on my first try in Feb. 2019. The PMP credential was one of the rewards, but the greatest true reward for me was that the Journey made me a better project manager. It gave me a new mindset to look at things from different perspectives. The success at the end instilled self-confidence, now I feel I can overcome any challenge in my life.
The exam was not difficult. In fact, the "Exam Simulator" does a great job simulating the real exam. If you do well on the simulator tests, you will do well on the actual exam, and most importantly, you will do well in the actual life as a competent project manager too.
My advice is to focus on doing this for the sake of becoming a better project manager, and the certificate will come automatically as a good sweet additional reward.
How important it is for new students to read the official PMP Handbook from PMI? The short answer is "it is very important". For me, I started the journey of PMP certification by reading headfirst PMP. It put the very basics and fundamentals in an interesting and comic way, which served well as introductory material, but it is not sufficient at all for the exam or for making me a better project manager.
At the end of the PMP journey, I came to the conclusion that the following 3 are the essentials and the sufficient at the same time, not only to pass the exam but also to make me a better project manager:
1) Reading material: PMBOK Guide
2) Listening material: PmPrep Cast online course by Cornelius Fichtner
3) Practicing material: Exam Simulator
Even after I passed my exam, I keep at work the PMBOK guide and read it every now and then. I still also listen to some of the PrepCast courses.
In the last week, I recommend to go through the study notes created during the study journey, and most importantly on reviewing how the processes interact with each other. For me, I printed out all the 49 processes inputs, outputs and tools and posted them on my office room wall to see how they connect together. I used to spend at least one hour every day looking at the whole 49 processes posted on the wall and make out connections.
- Absy KRDEY, PMP